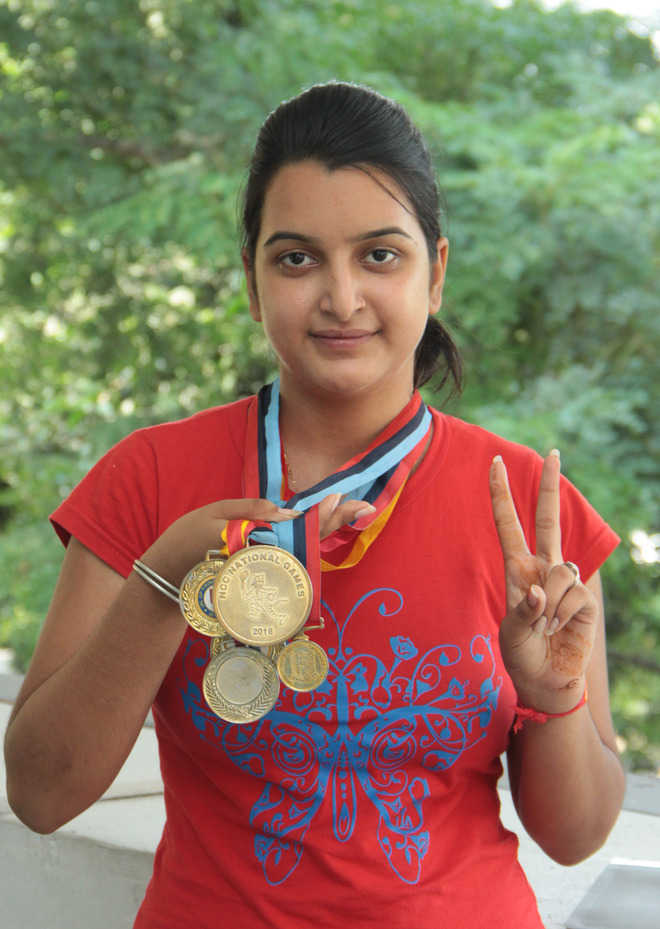 Deepkamal Kaur
Tribune News Service
Jalandhar, September 9
Even after having won a gold medal at the recently concluded All-India Inter-Directorate Shooting Championship organised by the National Cadet Corps (NCC), Megha is not much excited about her feat. She is rather tense. With no resources to buy any weapon, ammunition or kit and even pay for her coaching, she is not confident if she would be able to pursue the sport further.
Daughter of a tailor at Jalandhar Cantonment, Megha has even qualified for All India GV Mavlankar Shooting Championship to be held in October and is currently banking upon the support being provided by her 2nd Punjab Girls Battalion of the NCC to use their weapons and equipment for practice.
"I am currently practising on .22 sporting rifle provided to me by the Army at the PAP shooting range. But this rifle is not used for events outside the NCC. I need to compete for Peep Sight Rifle which costs Rs 3 lakh along with the kit. The financial condition of my family is not such that I can even buy this equipment on loan. If I have to continue to participate in open events, I have to buy a new rifle or discontinue the game," said the seven-time gold medal winner.
A class XII student of Lyallpur Khalsa Collegiate Senior Secondary School, Megha said, "Thankfully, my college has given me a complete fee waiver on the basis of my sports achievementS. I am using the money saved on my fee for my commuting to Chandigarh for taking coaching classes. Besides, I have to incur travel expenses at the tournaments."
Megha proudly shows her medals, certificates and photographs. Besides her latest gold medal at the Inter-Directorate championship that concluded IN West Bengal on September 2, she won the inter-group event held from July 1 to 10. She has won two gold medals in Inter-Battalion shooting events this year, besides two medals in 2014. She was also a gold medal winner at National Thal Sainik Camp held in Delhi in 2013.
The budding shooter has been striking a balance with her studies too. She got 83 per cent marks in class X PSEB examination as a student of Cantonment Board Senior Secondary School. "I have been pursuing the game as an NCC student from class IX. Being in class XII, I am a little more worried as I won't get even the NCC support after I am through with my C certificate which would come next year," she lamented.
Megha has big aspirations. "I want to clinch a medal in the Olympics like Abhinav Bindra and Rajyavardhan Singh Rathore. Besides, I want to get inducted in the Army on the basis of my C certificate in the NCC." She says she considers her coaches Tarsem Singh at Jalandhar and Gurdev Singh at Chandigarh as her role models who have been motivating her to pursue the game despite all odds.
Top Stories
Classes 5 & 8 students to be promoted