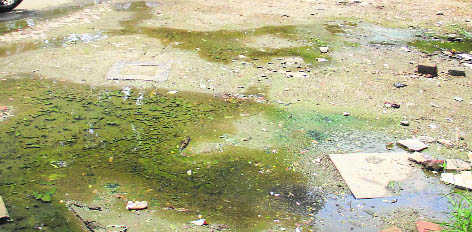 Aparna Banerji
Tribune News Service
Jalandhar, July 5
In view of the increased mortality of children due to diarrhoea, the Health Department shall be observing Intensive Diarrhoea Control Fortnight in Jalandhar district from July 11 to 30.
During the fortnight, 2,58,772 children up to the age of five shall be provided zinc tablets and ORS packets to fight the ailment. As many as 3,25,000 ORS packets shall also be distributed among children during the fortnight.
In view of the fortnight, 326 zinc corners have also been set up in the district where zinc tablets shall be available for the children.
A district-level committee – chaired by Deputy Commissioner Jalandhar, KK Yadav – has been formed in view of the Intensive Diarrhoea Control Fortnight (IDCF) for which the Civil Surgeon Jalandhar, Dr Kaliash Kapoor, shall be the in charge, District Immunisation Officer Dr Tarsem Singh shall be the nodal officer and DEO Secondary and Elementary as well as Programme Officer ICDS and mass media officer shall be members.
Notably, barring dengue, diarrhea is of one of the prime causes for the ailment not just among children but adults as well. At least two people died of diarrhoea in Jalandhar last year. Meanwhile, hundreds of patients in various localities of Jalandhar got sick with it in outbreaks happening both in January and September.
While at Ambedkar Nagar, two people lost lives to diarrhoea, at the Kot Ram Dass locality, in summers many cases poured in. Hundreds of people also took ill due to a diarrhoea outbreak in the ward number 40 of the city. In the Shaheed Babu Labh Singh Nagar (which is also on dengue sensitive areas list) and New Rattan Nagar areas as well, many fell ill in January 2015.
Most of the outbreaks were blamed on the lack of steps being taken to plug contamination leaks.
The health teams shall also hold awareness drives and trainings in various blocks to spread awareness about the drive. With a focus on ORS and zinc tablets disbursal for those suffering from mid diarrhoea, teams shall also hold trainings in all nine blocks of the district.
With the fortnight starting on July 11, ASHA workers shall visit 1,015 homes daily to distribute the ORS packets and zinc tablets.
Dr Tarsem Singh, nodal officer, IDCF, said, "There is at least 10 per cent mortality from diarrhoea among children below the age of five annually in the country. The situation is equally bad here. With the Intensive Diarrhoea Control Fortnight and 326 zinc corners, we shall be taking adequate measures to nip the problem and with the project, it shall be the Health Department's job to identify these children."
New microscopes for lab technicians
Under the NVBDCP programme to make Punjab free of malaria by 2020, the Civil Surgeon Dr Kailash Kapoor provided new microscopes to medical laboratory technicians (MLTs).
On the occasion, Dr Kapoor instructed all MLTs to give treatment to all patients suffering from fever on a priority basis during the malaria season and to improve their diagnosis with tests and microscopes.
Dr Surinder Kumar, nodal officer, IDSP, said as per the Punjab Malaria Mission 2020, there was a great enthusiasm among health workers due to which dengue and malaria were in control in Jalandhar.
Top News
Over 3,000 tourists from various parts of country reported t...
Third top leader of AAP nabbed by a central agency in a year...
Bench led by Justice Sanjay Kishan Kaul directs Centre to fu...
Indian javelin star threw 88.88m, a season's best, to clinch...
Agency alleged Kapoor received money for performing at the w...