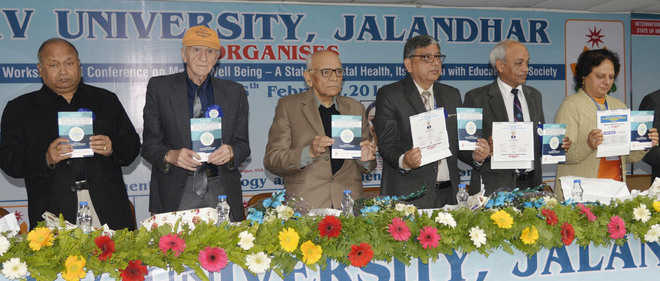 Tribune News Service
Jalandhar, February 5
Psychologists held deliberations on mental well-being and its implications on education and social set-up. The, experts participating in a two-day international workshop and conference on mental well-being said better mental health of the people could lay the foundation of a strong nation.
The workshop, being organised by the Department of Psychology and the Department of Education at the university, was inaugurated with the lighting of the traditional lamp. Dr AK Sharma, vice-president, DAV College Managing Committee, New Delhi was the chief guest while Dr Roshan Lal, professor of psychology at Panjab University, Chandigarh, was the guest of honour.
Dr AK Sharma, an eminent educationist, said the quality of education could lay the foundation of good mental health. Conferences and workshops were required to tackle psychological problems like stress, depression and suicidal instincts. "Effort to inculcate happiness must be incorporated in academic curricula," he said.
Professor of psychology at Panjab University, Chandigarh, Dr Roshan Lal spoke about global happiness index and said Indians did not enjoy the top ranking. People in small countries, including Bhutan and even Pakistan, were happier. "Indians lag behind in terms of mental health," he said. He said the Indian policy makers must include mental well-being in their policies.
Founder president, World Emotional Literacy League, USA, Dr Dean Van Leuven said the people could train their minds to be anger free. Dr. Van Leuven, also dubbed as "Dean of Peace", said instead of emotional intelligence, everyone should focus on emotional literacy.
Internationally certified psychotherapist Dr Shreya Pahwa said various personal and psychological problems including anxiety, depression, family conflict, trauma and panic attacks have been adversely affecting people across different age-groups. Dr Shreya, who is trained from Albert Ellis Institute, New York, said these affected people leading to behavioural dysfunction.
Lauding the Department of Psychology and Department of Education for organizing the conference, Prof Rakesh Kumar Mahajan, vice-chancellor, DAV University, said the aim of academic professionals should be to make the people achieve happiness.
Dr Jasbir Rishi, convener of the conference, welcomed the chief guest and other dignitaries. Dr Desh Bandhu Gupta, Dean Academics, said the people should break through anxiety to stay happy. Dignitaries, including Rajan Gupta, executive director, DAV University and Dr Sushma Arya, Registrar of the university, were also present on the occasion.