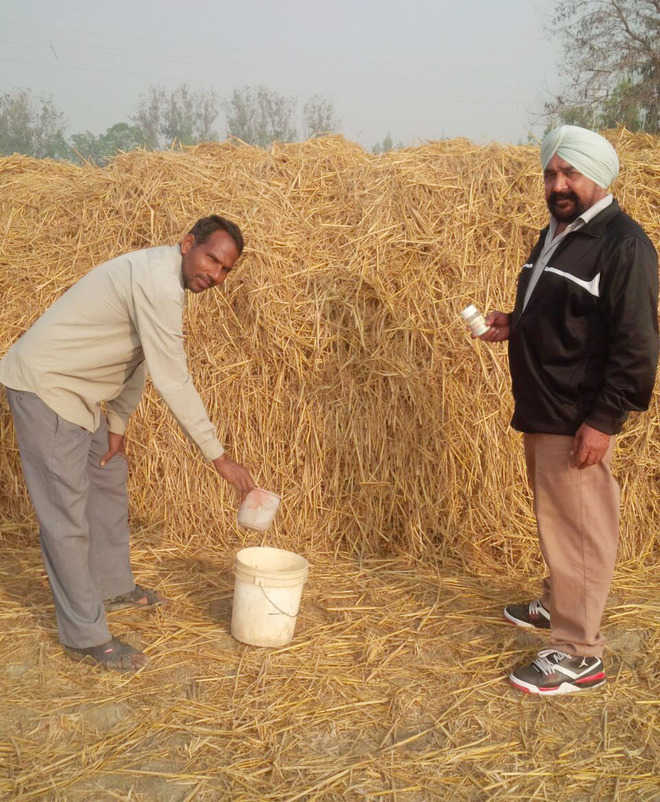 Aakanksha N Bhardwaj
Tribune News Service
Jalandhar, November 13
When smog blanketing the region due to paddy burning is making headlines not only in Punjab but in the Capital too and also causing health problems, some farmers in Punjab are trying to adopt alternatives to avoid the burning of the stubble.
The latest in this regard is the use of 'waste decomposer' in the fields.
It has been prepared by the National Centre for Organic Farming, Ministry of Agriculture and Farmers Welfare. Being projected as an alternative to stubble burning by officials, the "waste decomposer" is a solution in a small bottle prepared with effective micro-organisms. It is available to farmers for Rs 20.
Jagat Singh, assistant director of the centre, said many farmers in Punjab had started using "waste decomposer" in their fields. "We get feedback from the farmers which must be a motivation for other farmers too," he said. He also said that the Kheti Virasat Mission of Punjab, an NGO dedicated to promote organic farming, had taken many bottles from the centre.
Officials from the centre were also circulating on social media videos of responses of Punjab's farmers after the use of the solution.
Balwant Singh Bains, sarpanch of Chak Bilga village of Nawanshahr, is using the "waste decomposer" in his fields. He said he was encouraging the farmers of the village to come forward and use the bottle in their fields.
"The farmers have started responding and are using this to decompose the stubble too," he said adding that the results will be available after a month. He said he was now waiting for its results. "I do not want to burn the paddy and that is why along with the farmers, I have gathered all the stubble and have sprayed the solution on it," he said.
Rajeev Kohli, director marketing, international relations, Kheti Virasat Mission, Punjab, said that the NGO had ordered more than 1,000 bottles from the centre and farmers had actually shown interest in the "waste decomposer".
"The initial response is positive and many farmers who are not connected with us directly have also been asking for 'waste decomposer' to avoid burning," said Kohli.
Officials at the centre said the solution decomposed over 10,000 metric tons of bio-waste in 30 days. It could also be used in foliar spray and via drip irrigation. The process is about in-situ composting of the crop residue by spraying the preparation on the post-harvest stalks of crop plants in one acre and leaving it for a while. The solution can also be used for seed treatment. The officials further claimed that it could be used as a growth promoter, for soil conditioning and early germination to attain the maturity of the crop over time.