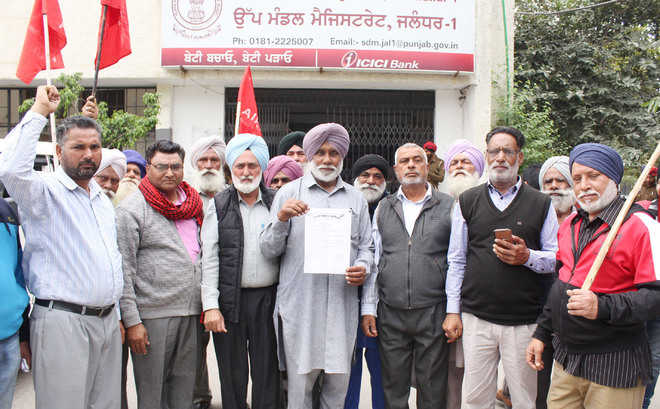 Tribune News Service
Jalandhar, March 25
Farmers under the banner of the Kirti Kisan Union today visited the District Administrative Complex (DAC) and handed over a memorandum to Additional Deputy Commissioner (ADC) addressed to the Chief Minister mentioning that the date of sowing of the paddy crop must be fixed early i.e. June 1.
Notably, under the Punjab Preservation of Sub Soil Water Act, 2009, it has been made mandatory not to sow paddy before June 20. The main aim is to check the continuous depletion of underground water that is receding at 50 cm every year.
Agriculture officers continuously direct and appeal to farmers not to sow paddy before June 20. But the farmers said sowing the paddy this much late was only giving them trouble.
The president of the union, Santokh Singh Tagarh, said if paddy would be sown late, then it would also affect the sowing of the next crop, i.e. wheat, as it would get delayed further and various other problems arise with the late date of sowing.
The farmers said already there were numerous problems that were associated with the farmers such as in the absence of the pending amount for sugarcane, the farmers are left to take loans from arhtiyas and banks to make both ends meet. They have taken loans amounting to lakhs, and now, they were waiting for their payments by mills so that they could repay their loans.
They said the condition of potatoes was no less sorrowful. Almost three years have passed but the condition of potato growers was not improving. The farmers are continuously suffering and forced to bury their lush green crop, nourished by taking loans in the hope of earning some profit. In the absence of a remunerative price (as potato is being sold not more than Rs 250 per quintal as per them), the farmers say that they were left with no option but to destroy the crop.
Earlier, while protesting against the government, the farmers had said the government could not pay their dues and had failed to give dues for their sugarcane crops even after a lapse of over a year. It should not keep bragging about the crop diversification scheme in speeches and also it (government) must stop showing 'fake sympathy' towards them.
The farmers said the agrarian crisis was getting grimmer in the state. The issue was being deepened with every coming day.