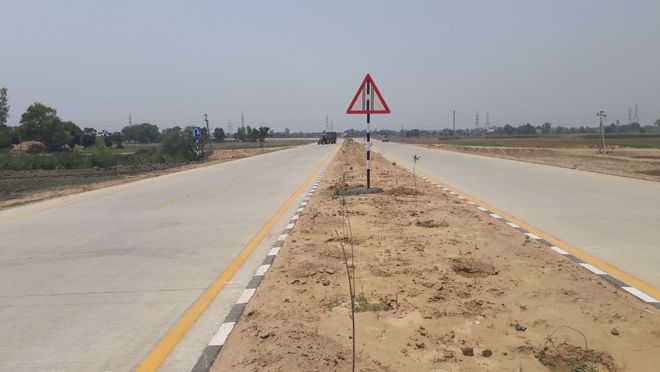 Tribune News Service
Jalandhar, July 29
The four-laning work of the Jalandhar-Barnala stretch, one of major road infrastructure project in the state, is set to be completed in October this year. It will boost the inter-state road connectivity between Punjab, Haryana and other regions of the North India.
The 144.720-km project would reduce the travelling time for commuters travelling between Jalandhar and Moga, Barnala and other parts of the country.
The Deputy Commissioner, Jalandhar, Varinder Kumar Sharma, said an estimated amount of Rs 3,100 crore (both civil and land acquisition cost) was being spent on the project, which started in September 2016 under the engineering, procurement and construction (EPC) mode.
The project was divided into four parts from the Lambra to Shahkot section with a total length of 33.28 km, including Nakodar, Malsian and Shahkot bypasses, at a cost of Rs 847.02 crore.
The second part of project includes the four-laning of the Shahkot-Bughipura Chowk section (Moga) of the NH-703 at a cost of Rs 766.36 crore up to 32.45 km, having bypasses at Dharamkot and Jalalabad in Moga.
From Moga to Tallewal section, a village in Barnala district, the road includes 38.65 km, at a cost of Rs 904.82 crore. In the last leg, the project will be of 29.64 km from Tallewal to Barnala section (Barnala city), having a bypass at a cost of Rs 578.38 crore, he said.
All three parts of the project will be monitored by the PWD (Building and Road), National Highway, Jalandhar division.
In the first part, eight vehicular under bypasses have been constructed and seven are already being used by people.
Sharma said the project was progressing at a fast pace and 90 per cent of the work from the Jalandhar-Tallewal section was completed.
The project, once completed, will give a huge push to the economic growth of the region with its connectivity with other parts of the state and the country.
Gurmukh Singh, Executive Engineer PWD (Building and Road), National Highway, Jalandhar division, said the construction in a few parts of the project, including bridges over the Sutlej, Kali Bein and ROBs in Malsian was on.
He added that major bypasses, including Nakodar, Malsian and Shahkot, would be ready by September 15.
Top News
The team is carrying medicines and heavy critical care equip...
Over 1,100 injured, 56 of them grievously
Indigenous anti-collision train protection system was introd...
Had flagged ministry's laxity, sought definite time frame fo...