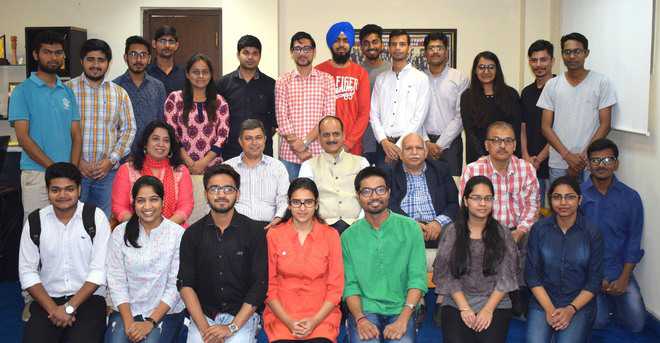 Tribune News Service
Jalandhar, March 16
Four teams of National Institute of Technology (NIT), Jalandhar, have been shortlisted to participate in the finals of the Software Edition of Smart India Hackathon-2018.
The contest is an initiative of the Union Ministry of Human Resource Development (MHRD) along with All India Council for Technical Education (AICTE), Inter Institutional Inclusive Innovation Centre and Persistent Systems.
The aim is to identify new and disruptive digital technology innovations to solve day to day challenges faced by the country.
NIT students proposed several ideas for the Hackathon, that is a web application based contest where all competents and entrepreneurs have to make an innovative application for 36 hours continuously.
Only four teams from the NIT campus made it to the final rounds that are scheduled on March 30 and 31 in various nodal cities.The first team to qualify was team Tejas consisting of six students from BTech IInd year.
One of the members Nitish Kumar, told their idea was on 'Group messaging solution' for the Department of Defence Production, Ministry of Defence. He said this application would help to maintain the communication balance between the higher officials and workers. While elaborating on how it is different from existing messaging app he told, apart from end-to-end encryption this app would be an internal operating system for Ministry of Defence having no intrusion of Google or other servers.
This easy to operate communication app will also determine the minutes of meeting with more privacy between the workers of ministry. The team will travel to Bengaluru to participate in the grand final round .
Other ideas included 'Bus Occupancy Finder App' for the Government of Punjab, virtual vision for Ministry of Electronics and Engineering and 'Smart e-challan System' to avoid traffic violations in Chandigarh. The e-challan system by team perseverance explained that their app with the installation of CCTV cameras would automatically identify the four wheelers violating traffic rules.
The sensors fitted in the camera would take sight of the licence plate of the vehicles within 300 meters of radius and convert them into textual forms. Moreover the challan would also be issued online through e-mails or text messages through mobile.
Hackathon is an Initiative that clubs together thousands of technical students across the country with government departments, by challenging them to build digital solutions to improve the efficiency of the departments and hence providing new realms to think about.
Top News
Had complained to PM Modi about the activities of Brij Bhush...
Section 124A of the Indian Penal Code dealing with sedition ...
The postings and transfers of the officers have been made on...
'We are distressed and disturbed at the unseemly visuals of ...
The representatives of various khaps and farmers' outfits re...