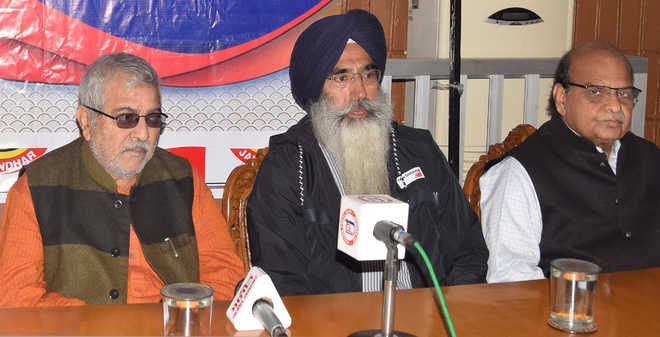 Tribune News Service
Jalandhar, November 18
Patiala MP Dr Dharamvira Gandhi on Sunday said a fourth front would be formed in Punjab before the 2019 Lok Sabha elections.
The MP said he was in talks with suspended AAP leader Sukhpal Khaira as well as the Bain brothers in this regard.
He said they had two rounds of talks and the political agenda would be for the best interests of Punjab. A declaration would be made within months, he added.
Condemning the Army Chief's recent statement regarding the revival of insurgency in Punjab, Gandhi said, "Such comments from an Army Chief are dangerous for democracy and military. In my 70 years of political career, I have seen for the first that an Army Chief has issued such kind of a statement. Intelligence agencies such as RAW, CBI or Home Ministry issues such warnings or alerts. Army's excessive involvement in civil affairs is dangerous for the democracy as well as military itself. The Army Chief shouldn't comment on law and order in Punjab. Such warnings are a subtle psychological build-up for a crackdown. These usually precede a red alert situation in the state."
Responding to queries about in talks with any of the recently ousted leaders of the SAD, Gandhi said, "We are ready to talk to every person who talks of federalism or unity of Punjab. We can't talk to the SAD-BJP or the Congress unless they dissociate themselves from the Centre's discourse, which is detrimental for Punjab."
Flaying the Amritsar blast and terming it unfortunate, Gandhi said the police must investigate the incident professionally and the culprits should be arrested at the earliest.
---
'NDPS Act a tool for police, govt'
Patiala MP Dr Dharamvira Gandhi, who has been vocal about his demand for decriminalising organic drug use in the state, said the Congress government during its two-year rule had done nothing to alleviate the drug problem
Gandhi said, "The NDPS Act is the new tool for the government, which criminalises the common residents. The NDPS Act has come as a boon for the police and the Congress government continues the same onslaught."
.