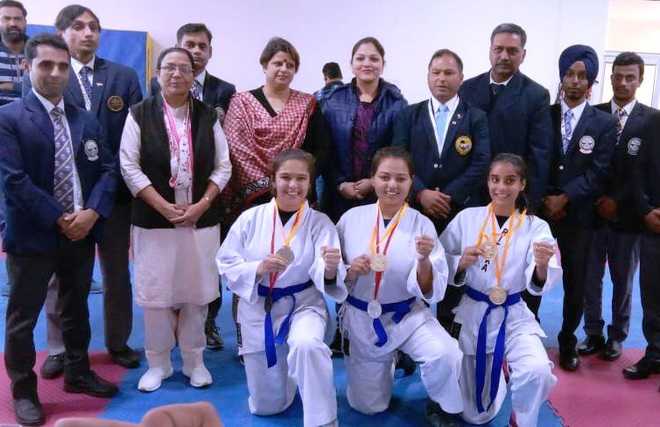 Our Correspondent
Hoshiarpur, November 28
Karatekas of Jagmohan's Institute of Traditional Karate (JITK), Hoshiarpur, won three gold, one silver and five bronze medals in the Panjab University Inter-College Karate Championship. A total of 150 students from 20 colleges participated in the event.
Representing the Government College, Hoshiarpur, Aakriti Vij, Ritika Sharma and Komal won gold medals in kata team. Sudha got the first place in individual kata. Komal Sharma and Akriti Vij remained second and third respectively. Satnam (Jogi), Vikas Chopal and Sudha won bronze medals in kumite contest.
The players are receiving training from Sensei Jagmohan Vij,
Coach Jagmohan Vij and assistant trainer Nitia Vij, congratulated the winners for achieving the distinction and said the winners would be honoured at a function soon.
Top News
'Govt can access personal data of Indian citizens under exce...
A registrar of pharmacy council had sought cancellation of '...
2 criminal cases related to weapons and fake currency pendin...
Over 250 win from 411 wards | BJP wiped out in P'kula AAP c...