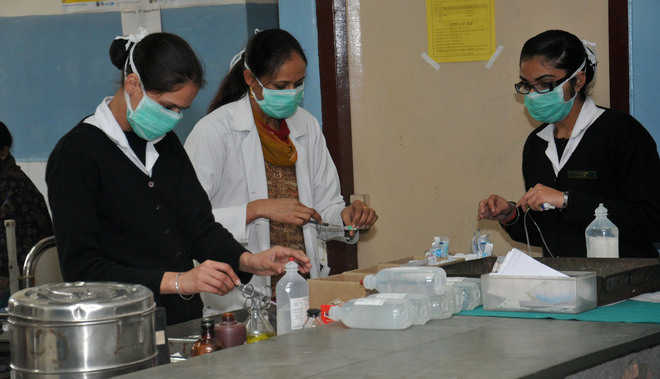 Aparna Banerji
Tribune News Service
Jalandhar, August 23
As many as five persons who were suspected suffering from swine flu died during the past one week. Two of them tested positive. Of the 30 patients suspected suffering from the disease in the district, 10 have tested positive. As many as 29 persons reported at private hospitals are of the B category.
A 22-year-old patient from Nawanshahr died at DMC Ludhiana yesterday. She was residing with her parents at Garhshankar and had a travel history of going to a crowded religious place 15 days ago.
Jalandhar-based Sandeep (51) was the last patient who died of the disease. He was referred to DMC Ludhiana where he breathed his last.
Other patients who died of the disease are Narinder Kaur (60), who died on August 16; Chanan Singh (60) from Garhshankar village, who died on August 20; and Preeti (20) from Gohir village in Jalandhar, who died on August 21.
They were suspected suffering from the disease while Balwinder Kumar from Tahli village in Nakodar and Sandeep, who died last evening, tested positive for the H1N1 virus.
At the Civil Hospital so far, as many as 11 cases of swine flu have been reported, a majority of them have been put on ventilator.
The health authorities have said as many as 29 patients suffering from the B- category of the disease are receiving Tami-flu medicine to cure the disease.
Notably in the past, a spurt in swine flu case was never witnessed before December and January. The new cases of swine flu and deaths due to it have kept health authorities on their toes. Swine flu cases caught the Health Department off guard due to a mutation in the virus
While as many as three ventilators at the Trauma ward have been reserved for swine flu patients at the local Civil Hospital, in addition to it, a 30-bedded ENT Ward has also been set up as an isolation unit for the swine flu patients. As many as four patients suffering from swine flu are also currently admitted to the Civil Hospital.
Dr Preetkamal, district IDSP coordinator, said two patients had died of the disease. He said, "Since the two deceased tested positive, two patients have died of the H1N1 virus. We have made adequate arrangements for treatment of the patients and all due care is being taken. The staff have also been instructed to take proper precautions. All staff members attending the swine flu patients have been provided protective gears. We are also providing Tami-flu medicines to all B category patients in the district. Tami-flu medicine is readily available at all CHCs and sub-divisional hospitals."
Dr KS Bawa, Medical Superintendent, Civil Hospital, Jalandhar, said, "An isolation ward for the swine flu patients has been set up. We are also making sure that the patients get ventilator support as three of the total ventilators have been reserved or swine flu patients. They have been placed in an isolation unit within the Trauma ward."
Top News
No immediate report of any loss of life or property; people ...
Earlier, Amritpal was caught in CCTV footage at a toll plaza...
Police have arrested 154 people so far but Amritpal is still...
Stringent National Security Act has been invoked against Amr...
In his first reaction to the police action, the CM releases ...