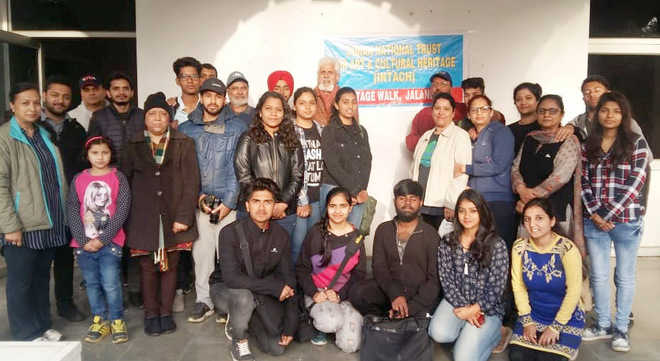 Our Correspondent
Jalandhar, March 20
Indian National Trust for Arts and Cultural Heritage (INTACH) organised a heritage walk here today at Budha Park on the history of Jalandhar Cantonment. Major General, Balwinder Singh, VSM (Retd), the convener of INTACH, Jalandhar, briefed the participants about the historical events related to Jalandhar Cantonment.
He said the Jalandhar Cantonment was established in 1849 and during the World War I, Jalandhar Brigade sailed from Karachi and Bombay to Egypt for defense of Suez Canal. The brigade was also diverted to France where they fought for seven months at Neuve Chapelle, Festubert and at the Loos.
He said: "It is important for the youth and coming generations to know about the history of their hometown. The cantonment had witnessed various major events that were the living examples of bravery and patriotism."
A total of 50 participants explored the heritage of the Cantonment and walked on the premises of the Cantonment headquarters, sub areas which were constructed in 1865 at the cost of Rs 9000.Maj Balwinder Singh said these subareas were then used for staging and transiting of troops towards North West frontier province.
Col Mandip Grewal, member, INTACH, informed the participants about the Jalandhar Club which was established in 1909. He said during that period the club had the one of the best cricket ground of North India and the annual general meeting of the board of cricket in India was held for the first time at Jalandhar Cantt cricket ground in 1958.
The participants also walked to church which was constructed during the British time and the house, where Brig Gen Ren Dyer stayed.