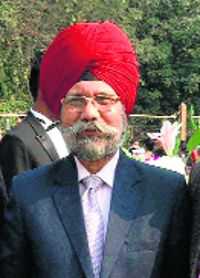 Aparna Banerji
Tribune News Service
Jalandhar, March 25
"I did not know my name will be announced. I was out of station and came back to Mohali where I had to take my wife to a hospital. It was through telephonic calls from friends that I got to know I was appointed the AAP candidate," Justice Zora Singh (retd) said.
While AAP on Sunday named Justice Zora Singh (retd), who chaired a commission to probe into the sacrilege incidents of the Guru Granth Sahib. The appointment has come amid scepticism from within the party. Justice Zora said the party did not issue any official intimation to him ahead of announcing him the Jalandhar pick for the party for the upcoming LS elections.
While two months ago, PEP leader Sukhpal Khaira had held a press conference in Jalandhar criticising the Zora Singh Commission, chaired by the latter, his candidature has also met with disappointment from within the party since he was considered a surprise parachute candidate and an abrupt pick for Jalandhar.
While Dr Shiv Dyal Mali, the district president of AAP, Jalandhar, who was among party workers who stuck to AAP amid the breakaway group joining Khaira - was hoping for a ticket from Jalandhar, Dr Mali said the appointment left him utterly disappointed.
Staying in Mohali since 2002, Justice Zora, who retired as a High Court judge in 2012, had joined judiciary in 1976. He has previously stayed arbitrator with the Food Corporation of India for two years, was the Chairman of the Judicial Commission of the Haryana Gurdwara Prabandhak Committee and was chaired a probe into discrepancies into the Haryana Human Rights Commission appointments, instituted by the Haryana Government.
When questioned on his being considered a parachute candidate, he said: "I have been posted in various towns of the state — Jalandhar, Amristar, Gurdaspur and Kapurthala, among others — and will do this duty well."
He said he would only begin canvassing in Jalandhar as per the official intimations of AAP.
A source within the party said it would be an uphill task to mobilise the cadres in his support as those working for years had been sidelined for him, who is a December-entrant known for his previous Akali-leanings, and he would have a tough going in the predominantly Dalit constituency.
However, AAP district president Dr Shiv Dyal Mali said: "The appointment came to me as a surprise too. It's a disappointment but I accept it humbly and will continue mobilising support for the party's pick in the elections."
Aims to make Zora panel report public
While Justice Zora Sigh (retd) had chaired the commission set up in 2015 to probe sacrilege incidents in the state. Reacting to criticism by PEP leader Sukhpal Khaira that he has protected those responsible for sacrilege incidents, Justice Zora said: "Khaira should at least have had read the report before the criticism. Or he should name the point he disagrees with. If my report had protected the Akalis, why didn't they make it public? My report has clearly mentioned those erring in the desecration incidents and now, as a contestant with AAP, my emphasis would be to seek that it be made public."
Speaking on his agenda in Jalandhar, he said: "I joined AAP for its work on education and health. AAP has been doing great service on education from Delhi and my prime thrust would be to replicate the party's education model of Delhi in Punjab."