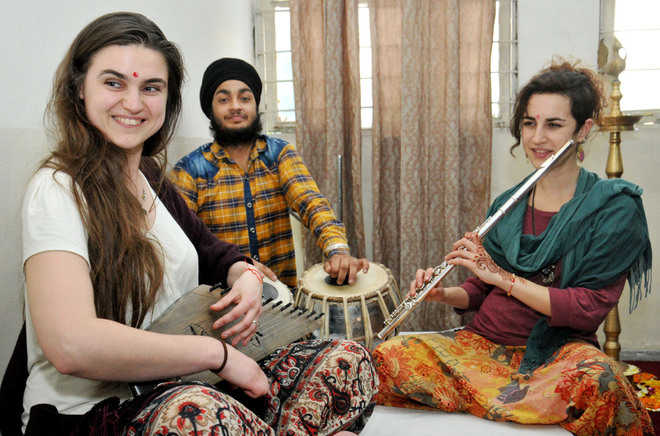 Tribune News Service
Jalandhar, June 19
The Apeejay College of Fine Arts that is widely known for its music department in the country was established as Rajeshwari Kala Sangam at Tanda Road by its founder Chairman Stya Paul, which was later converted to the college.
It was the first music academy that was set up at that time. As per information, founder principal Pt Shankar Lal Mishra used to invite renowned artistes from every part of the country to the college. The college got affiliation from Guru Nanak Dev University, Amritsar, in 1975 for PG course (music vocal and instrumental). Gradually, music made its place as an elective subject for both undergraduate and postgraduate classes also. The department is also having a well-equipped audio visual sound studio.
Principal Sucharita Sharma said, "The college's department is the oldest in the region and we are dedicated to promote our art and culture through it."
"Our department has performed classical music outside the country too and our it compliments every other subject that is being taught in the college," she said.
The department has a number of achievements to its credit as students of the department bring laurels to the Institution every year by winning numerous competitions, including youth festivals. A delegation of 27 students and faculty of the department had also performed during the Baisakhi Mela in Singapore that was organised by the Singapore Khalsa Association where their performances received appreciation. The students have been performing at international SAUFEST for the past 12 years. This year too, they performed at SAUFEST held in Indore from February 28 to March 4. As many as 27 countries participated in the event.
Bannet Dosanjh, winner of rising star; Kapil Sharma, comedy sensation; Sugandha Mishra, TV artiste and singer; Jasbir Jassi, renowned Punjabi singer; Yuvraj Hans, actor and singer; Seep Taneja, leading model; Jai Bharti, film actress; Gunjan Walia, TV artiste; Manoj Sabharwal, TV and film script writer; and Akhil Pasricha, who has earned international recognition in the realm of music, are the products of the college.
Anadi Mishra from MA (music) course, a singer in the making who is gaining popularity with the social media not only composes his songs but also sings and records them on his own.
Many renowned artistes, including Birju Maharaj, celebrated dance maestro; Wadali Brothers, renowned Sufi singers; Ustaad Bismillah Khan, shehnai player; Pt Jasraj, renowned vocalist; Hari Prasad Chaurasia, noted flute artiste; ghazal maestro Jagjit Singh, Kishori Amonkar, eminent Vocalist; Anisa Sabri, famous vocalist; Zakir Hussain, renowned tabla player; Tafu, renowned tabla player from Pakistan; and Hussain Baksh, renowned ghazal singer, have performed in the college in the past.
Sugandha Mishra, TV artiste and singerand alumnus of the college says, "I am a product of the Apeejay College of Fine Arts and I am proud of it. I used to take part in youth festiv als which eventually gave boost to my confidence level and I will always remain thankful to the institute."
Top News
The former military ruler had left Pakistan in March 2016 fo...
After his failed misadventure in Kargil, Musharraf deposed t...
Military shoots down the surveillance balloon in Atlantic Oc...
The incident took place on Friday when Kambli reached his fl...
Dearness allowance for employees and pensioners are worked o...