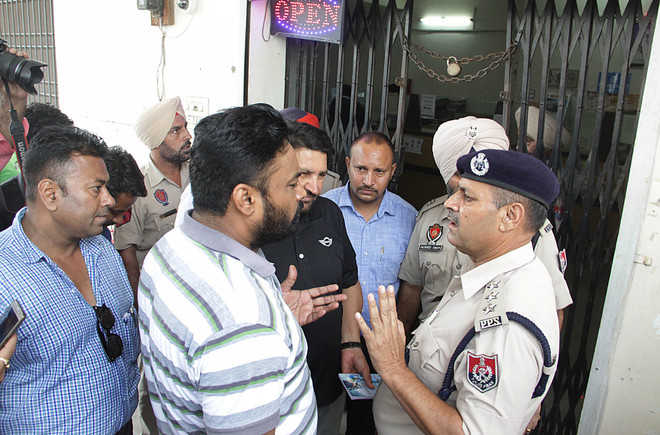 Nikhil Bhardwaj
Tribune News Service
Jalandhar, August 29
Whenever any major crime has taken place in the city pertaining to ATMs or bank loots, the office of the Deputy Commissioner of Police (DCP) has always issued orders under Section 144 of the CrPC that banks and financial institutions should deploy guards to prevent robbery and theft.
After the 10 kg gold loot at Manappuram Finance Limited at Rama Mandi, DCP Harjit Singh repeated that he had issued orders under Section 144 of the CrPC and despite his instructions, Manappuram had not employed any guard for its safety. "We will book company officials for violating the orders under the relevant Sections," the DCP said.
In recent months, when a series of ATM loots took place, the DCP had issued the same orders, asking bank officials to deploy guards in the ATMs and banks to prevent robbery or theft, but the orders were not being taken seriously by many institutions.
Sources said the police had not booked any bank official or finance company official for failing to deploy guards in their institutions in the recent past. It seemed the orders were being issued just as a formality and not for the sake of proper implementation.
Several such orders under Section 144 were recently issued by the DCP pertaining to the installation of the CCTV cameras at parking lots, record of second-hand mobile phones, sound pollution, registration of tenants etc, but the same were not being implemented in letter and spirit.
Top News
The election if required would be held on October 17, a firs...
Capable of supporting ultra-high-speed Internet, the fifth g...
As the govt rolls out the revolutionary 5G service, a look a...
India's PM has unequivocally conveyed this (dialogue) in his...
A huge improvement from 66th position in Swachh Survekshan 2...