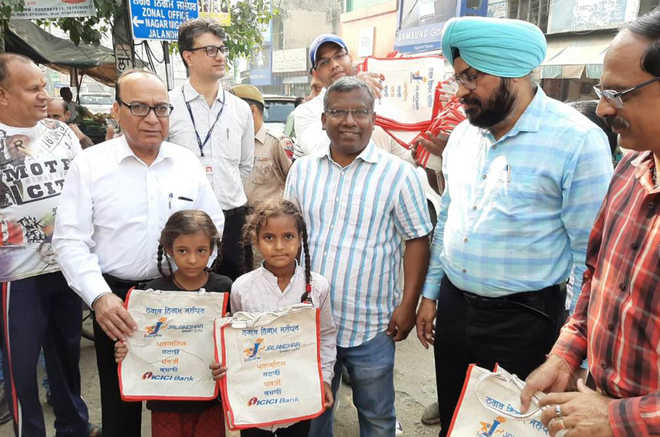 Our Correspondent
Jalandhar, October 26
Municipal Corporation (MC) Mayor Jagdish Raj Raja, MC Commissioner Diprava Lakra and Jalandhar Smart City Limited Chief Executive Officer (CEO) Jitendra Jorwal distributed jute bags among reidents in Old Sabji Mandi near Patel Chowk on Saturday morning to spread awareness against the use of polythene carry bags.
The officials underlined the need to give up the use of plastic bags, which were causing damage to the environment and to switch over to alternative products such as jute. They said these environment-friendly bags could be instrumental in eliminating environmental problems being caused by plastic bags. The need of the hour was to make sure that only these bags should be used by people.
They expressed hope that active support and cooperation of the people, Jalandhar would soon emerge as a clean, green, pollution and plastic-free district.
The drive was started with support from ICICI Bank Jalandhar.
Prominent among present on the occasion included Municipal Corporation Joint Commissioner Harcharan Singh, MC Health Officer Dr Shri Krishan Sharma and Anuj from ICICI Bank.
Top News
Said the BJP state leadership has been defaming late CN Anna...
India defeat Lanka by 19 runs in a low-scoring final
Tensions flared between India and Canada after Trudeau's exp...
The felicitation took place in Canadian Parliament in the pr...
Three arrested; investigation shows Badal allegedly 'conspir...