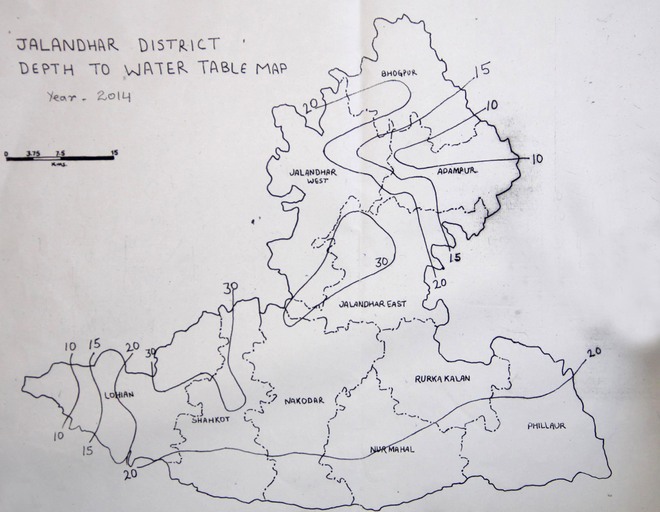 Rachna Khaira
Tribune News Service
Jalandhar, April 23
Even as the Central Ground Water Authority of India (CGWAI) has notified the district as 'Dark Zone' due to over exploitation of water long ago, the administration has failed to take any concrete action for the preservation of rain water till date. Due to this, at majority of the places, the groundwater level has gone down by 100 ft.
In Jalandhar (West) and (East), the water level has gone down to 85 ft; in Jalandhar (Central), it has gone down to almost 100 ft. Also, in rural areas like Rurka Kalan, Nakodar and Shahkot, the water table is beyond 100 ft. In Bhogpur and Adampur, it is fluctuating between 80 to 90 ft.
While the cultivation area has managed to bring the water level up to a certain extent due to various practises like laser technology and crop diversification, urban area has reported zero recharge of rainwater due to apathetic attitude of the Municipal Corporation that failed to get rainwater harvesting systems installed in all the commercial buildings, residential areas above 500 sq yards and all the government buildings.
While the District Agriculture Department has built a get rainwater harvesting system inside the District Administrative Complex long ago for experimental purposes, the well is lying choked since years. The MC too failed to install get rainwater harvesting system in its own office till date. Also, the District Agriculture Department that had got one rainwater harvesting system installed inside the administrative complex on experimental-basis, also installed one in its office at Rurka Kalan, it could not install one in its head office due to shortage of funds.
The problem is much severe in urban belt as in the absence of a proper get rainwater harvesting system; the entire rainwater flows out through the sewers and drainage pipelines. Also, according to sources, while 40 per cent of water is getting lost during cultivation, 40 per cent of the water is getting lost in industrial sector while the remaining 20 per cent is getting lost through household usage in the district.
Also, while the state government has made it mandatory that no new electricity and water supply connections for houses of 250 sq yard and above would be released without the construction of a standard and approved rainwater harvesting system, the MC failed have to implement it effectively.
Also, taking advantage of the MC's apathy, people have nowadays installed submersible pumps in their houses after the water extracting motor failed to dish out water from the low lying water table depleting everyday.
Top News
Lhonak lake breaches banks after cloudburst, triggering mass...
Fresh combinations, permutations being studied
Third party leader to be arrested | BJP says Kejriwal 'real ...