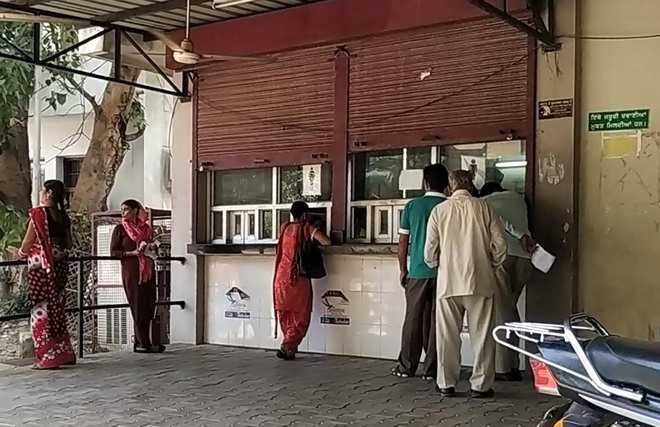 Ajay Joshi
Tribune News Service
Jalandhar, October 13
The dispensary at the Civil Hospital has been facing a shortage of medicines. Patients, due to the scarcity of medicines have to return empty-handed. They are approaching private medicine stores to purchase the doctor recommended medicines. Sources said, only 40-50 per cent medicines listed by the government in the essential drugs category were available in the dispensary.
One of the pharmacists said presently, seasonal medicines like cough syrups, anti-allergic drugs, skin ointments, drugs for hypertension and thyroid were declared 'unavailable' for the patients. In-addition, the patients referred by the doctors at the de-addiction centre also have to bear the brunt of shortage of medicines. Pain killers, antidepressant and anti-anxiety tablets were found missing from the dispensary for the past more than two weeks. Anaesthetic drug and lignocaine injection had been out of stock for the past several months.
Besides, pharmacists at the dispensary find it tough to provide the exact medicines to patients as per the recommendation of doctors. In the absence of Jan Aushadhi Kendra and Red Cross medical store that provide generic medicines on cheaper rates, patients have to rely on private medicines stores only, that are certainly burning a hole in their pockets.
Patientspeak
Jyoti, a patient who received limited quantity of medicines from the dispensary, rued that the government had washed its hands of providing a regular supply of medicines to the hospital. Owing to her treatment, she frequently needs medicines. However, the shortage of drugs leaves her troubled. She says that sometimes even basic medicines, like calcium and iron, are not available at the dispensary. Similarly, Sarju Kumar, another patient who wanted stress-buster drugs recommended to him by the de-addiction centre, said he was highly disappointed by the continuous unavailability of medicines here at the dispensary. These medicines, specially suggested by the doctors concerned, were not available even at local private store, he added. Moreover, patients belonging to the poor section of society are the worst-hit due to lack of antibiotic and antipyretic medicines. Sahil, who had come to take anti-allergic medicines, said it was not the first time that he failed to get medicines from the dispensary of the hospital.
Officialspeak
According to Medical Superintendent of the hospital Mandeep Kaur, the emergency medicines are in stock with chief pharmacist and the dearth of other medicines is likely be over by October 16 once fresh stock arrives from Verka Drug House in Amritsar.
Medicines unavailable
Cough syrups
Anti-allergic drugs
Drugs for hypertension
Skin ointments
Antidepressant and anti-anxiety tablets
Lignocaine injection
Top News
Chennai airport operations suspended from 9.40 am to 11 pm
Group of militants on their way to Myanmar ambushed by anoth...
Court of Inquiry ordered to ascertain the cause of accident
This will be the first time in history of Mizoram that the s...
Punjab MP was suspended on August 11