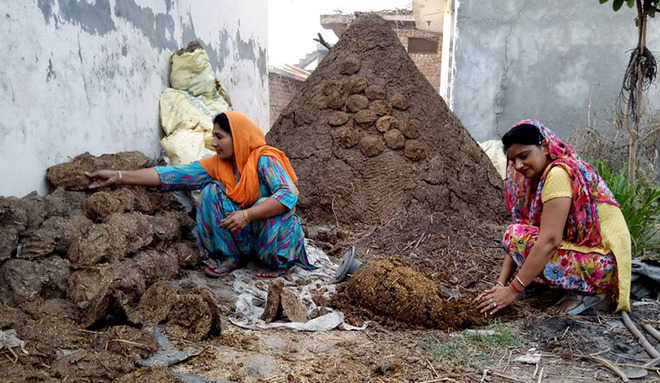 Aakanksha N Bhardwaj
Tribune News Service
Jalandhar, April 25
The sun is at its peak. The temperature is rising with each passing day and will reach around 48 degree very shortly, but few women are toiling hard for the betterment of their families in a very different way.
A group consisting of 10 women from Bulandpur village in Jalandhar district is an example in itself as instead of depending on the male members of their family, they have devised new means of becoming self dependent. They are entrepreneurs in their own way. They have the acumen of converting the waste into money. Through their traditional wisdom, they are earning out of nothing and generating sufficient income even from waste which is an unmanageable problem for many people and even for the administration. The cost of production is zero.
They are making cakes out of cow dung. Their skilled hands are capable of transforming heaps of cow dung into thousands of cakes of equal size and shape. After that, these are left in open sun to be dried and are stored for future to save it from rain.
The people owning dairies in Bulandpur village and nearby areas have found a way for problem of managing cow dung. They throw cow dung in the abandoned areas and from here, common 'folk' of these areas used to find an opportunity to earn livelihood for their families.
Though it has remained a practice in rural areas to make cakes of cow dung for domestic use but doing it on such level and to market the product is in itself praiseworthy.
"First of all we do not have to spend and depend on kerosene or gas for fuel to run our kitchens. Secondly, there is a huge demand among people from some other occupations like potters, for this.
"As Jalandhar is a hub of manufacturing activities, cakes of cow dung is the best option for micro-scale melters and those who need the cakes especially for heat treatment or tempering of tools of small quantities. It is a traditional and time tested method," tells a local manufacturer.
Surinder Kaur, 50, one of the women says that by earning from sale of cow dung, their earning has really improved and they feel self reliant.
"The cost of production is almost zero, if our labour cost is excluded. The summer season is best for our job. But rain can spoil the whole process. The more the heat, the better it is," she elucidates.
Although, they are not well-educated but the women are aware of the fact that scattered cow dung is a home to various diseases as mosquitoes tend to grow in such places. "We are also helping in eradicating the diseases by transforming the scattered waste into cakes," the women say.
Top News
As the voting progresses, both SP and BJP hurl allegations a...
The Delhi govt opposes the Centre's plea saying it will only...
This comes as a major embarrassment to CM Bhagwant Mann who ...
Pawanpreet Kaur was gunned down with 'multiple shots' and di...