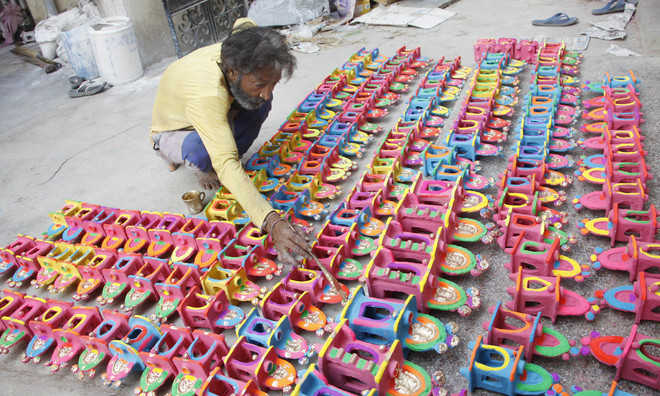 Aparna Banerji
Tribune News Service
Jalandhar, October 11
The Punjab Pollution Control Board has issued directions to all districts to observe a clean Diwali.
Deputy Commissioners have been requested to convene a meeting with all school principals and heads to ensure sensitisation regarding Diwali.
Instructions have also been issued to traders/sellers not to sell firecrackers that generate noise exceeding 125 db.
Orders have also been issued that prohibit bursting of firecrackers after 10 pm.
PCR vehicles will keep an eye to see that the instructions are observed.
The PPCB will also set up three ambient air quality monitoring stations at different places in the district to monitor the air quality.
These stations will be operated one week before Diwali — October 12 from 6 am to next day 6 am and on October 19 (Diwali Day) from 6 am to 6 am.
NGOs have also been directed to ensure sensitisation regarding clean Diwali.
As per the guidelines, school heads must sensitise students of the ill-effects of bursting firecrackers and exhort them to celebrate 'Green Diwali'.
Noise measuring devices are available at the regional office of the Punjab Pollution Control Board.
NGOs have also been requested to organise activities, including marches, in collaboration with educational institutions, for creating awareness among people.
The NCC/NSS in charges of schools/colleges/ITIs and universities have also been requested to mobilise volunteers to spread the message of 'Green Diwali'.
The three ambient air quality monitoring stations set up by the PPCB at different locations in Jalandhar include Guru Tegh Bhadur Nagar, Jalandhar, residential area, ESI Hospital silence zone, Municipal Corporation office, commercial zone.
The Punjab Pollution Control Board has also constituted teams consisting technical and scientific staff to monitor noise levels from firecrackers.
The monitoring of noise will be carried out by the team on October 12 (normal day) and on Diwali from 6.00 pm to 12.00 midnight.
Sandeep Bahl, senior environmental engineer, Punjab Pollution Control Board, said, "People are requested to comply with the orders. Our teams shall also be keeping checks in various areas as well as monitoring ambient air quality. The guidelines were also issued last year, as per the orders of the Supreme Court."
Top News
Writes to Mohit Rajan, Deputy Secretary in the MS Branch of ...
The quantum of punishment will be pronounced by the court la...
Amritpal's counsel on the other hand contended that he was i...
During the intervening night of March 27-28, BSF troops dete...
Sukhwinder Singh ran a finance business in Manila for the pa...