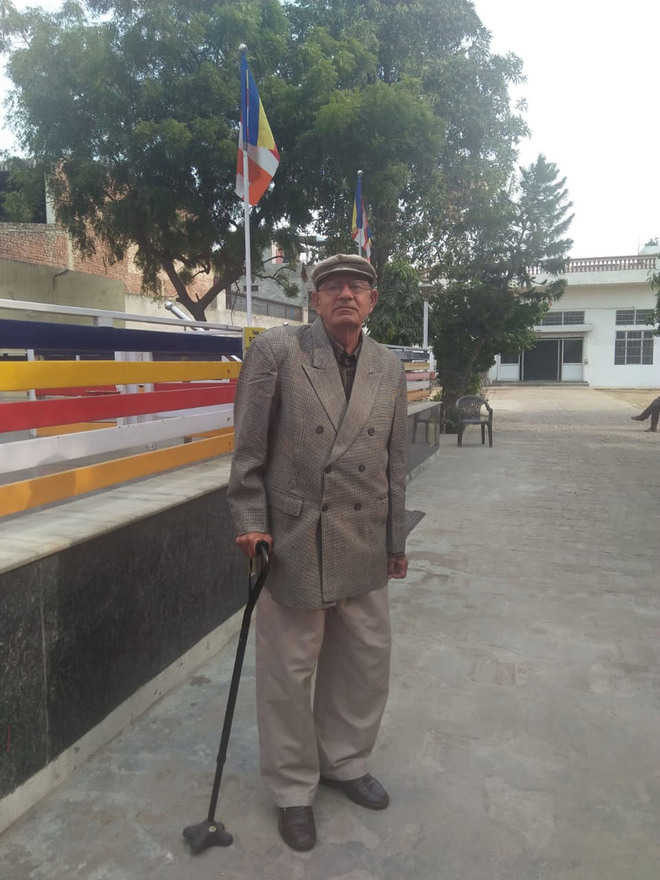 Aparna Banerji
Tribune News Service
Jalandhar, December 6
In 1958, two years after Dr BR Ambedkar embraced Buddhism in Nagpur, along with scores of his followers, Jalandhar-based Lahori Ram Bali (89) started the Bheem Patrika magazine, then in Urdu, to take Ambedkar's message far and wide. Sixty years after it was first started, the magazine is still going strong. While 3,000 of its copies are still circulated in the state and across other parts of the nation, Bali expresses concern for the Dalit identity and expresses hope that slowly and gradually the ideals of inequality, not feudalism, find prominence in the mainstream again.
While Bali is responsible for starting a movement to publish the unpublished writings of Dr Ambedkar after his death on December 6, 1956, and in 1968, getting published 'The Annihilation of Caste', Ambedkar's legendary book, yet again, years after it had long gone out of print. He has also been jailed for his ideals. Bali's 'Bheem Patrika' is the longest running Ambedkarite magazine being published uninterrupted since 1956. Having being published in Urdu in the beginning and in English in between, the magazine is now published in Hindi since 1965.
Bali says, "There is a village in Maharashtra where a flag is hoisted in its centre. My readers tell me that an announcement is made every time the magazine arrives (only one copy goes there) and the entire village gathers and listen as the the head reads it. That's my reward. As long as the message is being spread."
While Bali was away strengthening Ambedkar's Agra cadres when the latter visited Jalandhar in 1951, he did meet Dr Ambedkar on his deathbed in 1956. He along with KC Sulekh (who was the stage secretary during Babasaheb's address at Ramdaspura in 1951, during his three-day tour to the state) are among his oldest associates in the region who are keeping alive his legacy through literature, books and writings.
Bali says: "I was a part of the Schedule Caste Federation's last meeting in Delhi, at Dr Ambdekar's residence on September 30, 1956. Two important decisions were taken during the meeting – The SC Federation was disbanded and the Republic Party of India was formed in its place and a resolution was passed by Babasaheb, calling for an end to political reservation. While he had himself fought for it, this was because he was of the opinion that representatives of capitalists and the powerful were being chosen as Dalit representatives politically rather than those who would actually speak for the welfare and uplift of the Dalits."
"Unwell after the meeting, he was taken to his room, I along with my associates, had gone to meet him. I waited three hours sitting on a chair in the verandah. Later, I went to his room and sat next to him and made a promise to him that "I will keep the flame burning which you have ignited. I believe, I have stayed true to my promise."
Lahori Ram Bali claims that he paid Rs 20,000 to Ambedkar's family to get his writings, packed in six trunks, published, after the leader's demise. While he says his wish was initially not fulfilled, he, along with members of the All India Samata Sainik Dal (of which he is still a member) started a campaign to get his writings published. Eventually, the Maharashtra Government published a 21-volume book on Babasaheb's wirintgs and speeches.
His book 'Hinduism, Dharam Ya Kalank', was banned by the Punjab Government in 2009.
Bali claims he has had 35 cases against him for propagating Dr Ambedkar's ideas.
Top News
HM blames Nehru's 'blunders' for Kashmir's sufferings | Oppo...
One of these will vest Guv's Chancellor role with Chief Min...
Accused of pressuring students to create profile
Two more to put in papers; many likely to land plum roles in...