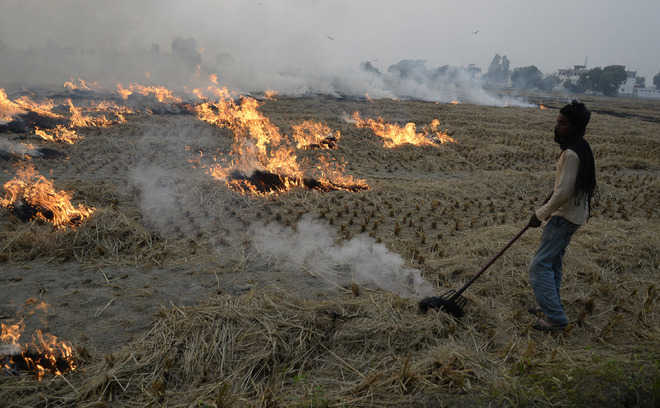 Tribune News Service
Jalandhar, October 21
Deputy Commissioner Varinder Kumar Sharma said today that only 58 incidents of stubble burning had been reported in the district.
Principal Secretary Alok Shekhar today reviewed activities carried out by the district administration under the anti-stubble burning campaign during a meeting in which the DC told officials about the number of cases of stubble burning reported in the district.
The Principal Secretary said all efforts were being made to make the environment clean. He asked the officers to intensify the activities for ensuring a clean environment by making people aware about ill-effects of paddy stubble burning in villages.
Presiding over a meeting, Shekhar said the government was making efforts to eliminate stubble burning from the state which creates harmful gases and poses a serious danger to human health and environment.
He said the government was providing ultra-modern equipment on subsidy for effective paddy stubble management under various programmes and was committed to wipe out the menace from the state.
In the meeting, the Deputy Commissioner said the Agriculture and Farmers' Welfare, PPCB, Co-Operative Societies, Rural Development and Panchayats, Education and other departments had already initiated awareness activities on war footing in villages through kisan melas, awareness rallies, public meetings, seminars, public announcements, hi-tech awareness vans, honouring progressive farmers who shunned stubble burning, pamphlets and posters or other ways.
Later, the Principal Secretary lauded the efforts of the administration and said the reduction of cases this year, show hard work of the officers.
Additional Deputy Commissioner Jasbir Singh, Sub Divisional Magistrates Amit Kumar, Rahul Sindhu and Sanjiv Sharma and DEO Secondary Harinder Pal Singh were among those others who were present in the meeting.
Top Stories