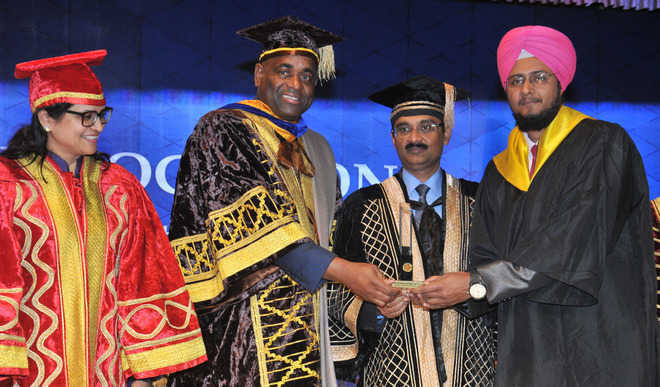 Tribune News Service
Phagwara (Kapurthala), February 23
Roosevelt Skerrit, Prime Minister of the Commonwealth of Dominica (North America), chaired the sixth convocation of Lovely Professional University (LPU) here on Tuesday and awarded gold medals to the toppers of various courses for the academic session 2014 -15.
Also, LPU Chancellor Ashok Mittal conferred upon him, the youngest Prime Minister in the world, the honorary Doctorate of Literature in recognition of his dynamism, farsightedness and the innovative leadership.
Skerrit was also applauded for his sincere efforts to build international harmony among nations and for his excellent governance. Over 7,810 students from the regular courses, distant education and part-time courses received degrees and diplomas from the Dominica premier.
Roosevelt for strong bilateral trade relations
While addressing the students at the convocation hall, Skerrit asked them to step into the world with positive approach. He also motivated the young brigade to encourage those around them. While terming the LPU as one of the top progressive universities in India, Skerrit even offered it to open a campus in Dominica and repeat the history of Ross University, the most celebrated offshore medical schools in the world.
"38 years ago, the founders of Ross University did their research and chose Dominica, over hundreds of other possible destinations as the site for its medical campus. Student enrollment then was only seven. Today, student enrollment is 1,338 and the expansion continues. Ross University has around 55 campuses internationally. That is the story of Ross University today. In a decade from now, it could be your own story or that of the LPU," said Skerrit.
Earlier, welcoming the elite gathering, graduating students and their parents, the varsity Chancellor Ashok Mittal applauded PM Skerrit for being a charismatic leader and a great visionary.
Later, while offering a host of concessional bouquet to the potential investors during a meeting at Bath Castle, Skerrit said his government has announced generous tax holidays, import duty and tax waivers and also streamlined processes for issuing of licenses and permits to their economic citizens.
"We have a host of investment opportunities to offer to our investors from India in the field of agro processing, medical sector, education and tourism. We do not have any property or death tax and we enjoy a stable government," said Skerrit who had led the Dominica Labour Party to three consecutive wins in the general elections held in 2006, 2009 and 2014.
A country with a meager population of around 0.7 lakh people has suffered tremendous infrastructure damage due to repeated hurricanes that stuck the country since 2007. While the island was stuck by hurricane in August 2007, another came in December 2011. Another tropical storm Erika passed from the country last year and smashed the tourism industry badly.
Bilateral trade between India and Dominica during 2014-15 amounted to US$2.63 million. Given the distance and small size of Dominica market, volume of bilateral trade between the two countries is comparatively small.
Top News
2 others eject safely I Debris strewn across miles I Sukhoi,...
Visit comes ahead of NSA chief's US tour
Union Ministers call it part of efforts to de-colonise, indi...