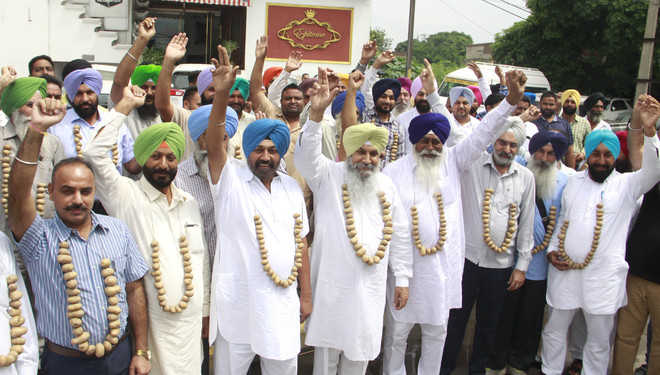 Tribune News Service
Jalandhar, September 11
Members of the Jalandhar Potato Growers Association protested against the government by wearing potato garlands here today. Raising slogans, they said they had been facing a tough time since demonetisation.
Jaswinder Singh Sangha, general secretary of the association, said demonetisation had affected the potato farming community.
The members said small farmers of the state could not purchase the required potato seed and their stores were full of potatoes, which were not being sold.
Sangha said, "The production of potato seeds is a finance-intensive activity and farmers in the state are under debt owing to heavy investment, which is required to produce quality potato seeds."
The members demanded that the India-Pakistan border should be opened for the trade so that potatoes could be supplied to neighbouring countries, where the demand for potatoes is at its peak.
They said freight subsidy for the potato farmers should be announced immediately so that they could transport their crop to other states at lower rates.
The members said, "Till date, the situation is that the farmers in the Malwa region are committing suicides and if the scenario remains the same, farmers in Doaba will meet the same fate."
Raghbir Singh, president of the association, said depression among farmers could be gauged from the fact that the high number of suicides was being committed in Punjab.
Top News
The former military ruler had left Pakistan in March 2016 fo...
After his failed misadventure in Kargil, Musharraf deposed t...
Military shoots down the surveillance balloon in Atlantic Oc...
The incident took place on Friday when Kambli reached his fl...
Dearness allowance for employees and pensioners are worked o...