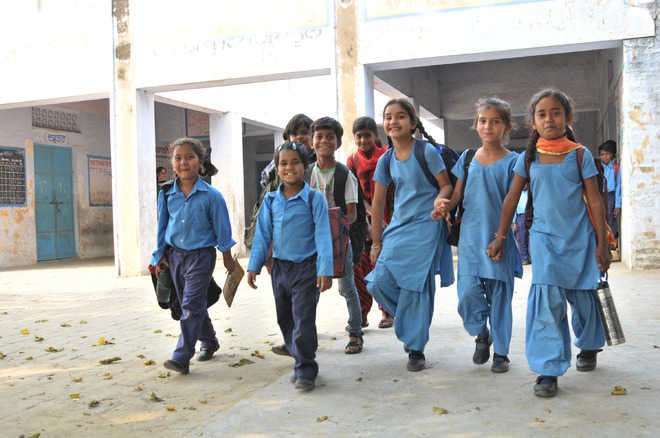 Ajay Joshi
Tribune News Service
Jalandhar, September 17
To ensure early availability of uniforms for the students of government schools, the Punjab School Education Board (PSEB) has decided to disburse funds directly to the school heads this time.
As many as 84,672 Class I-VIII students of the government schools in the district are expected to don new uniforms shortly. A fund of Rs 508.032 crore has been received by the Samagra Shiksha Abhiyaan here, confirmed the District Education Officer (DEO), Elementary, Rampal Singh. He said the payment had further been disbursed to the block level officers who would give it to school principals in accordance with the student strength of their schools.
Owing to various issues the students faced after receiving the uniforms last year, the PSEB has made sure that not only uniforms are provided on time, but also the issues related to insufficient or wrong-sized uniforms be eliminated. Notably, uniforms for the last session had arrived in April this year and most of the students had complained that the uniform sets they received were incomplete. A few students had got pants but not shirts. Some of them got wrong-size shoes and uniforms. Therefore, the PSEB has transferred money to the schools directly so that they could get uniforms stitched according to the students physiques.
Schools heads are also free to get the uniforms stitched as per the dress code of their schools. Besides, the PSEB has announced to provide Rs 600 per student for the purchase of uniforms which include pant-shirt, shoe-socks, tie-belt and sweaters for boys and same for the girls with options — pant-shirt/shirt-skirt/suit-salwar. Previously, schools survived on a meagre grant of Rs 400 per student for the uniforms. A few schools did not even receive grants until December last year and managed through donations.
The ClassI-VIII beneficiaries include 46,928 girls, 6,517 boys of the BPL category and 31,227 boys of the schedule castes' category.