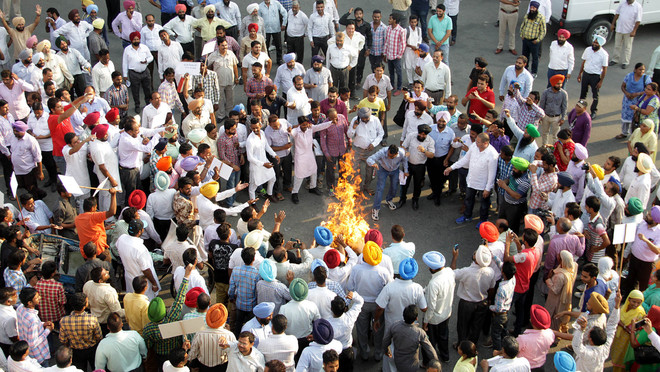 Tribune News Service
Jalandhar, October 2
SC/BC employees along with the Lok Ekta Front, Punjab, held a dharna outside the Deputy Commissioner's office here to reiterate their demand for seniority lists and promotions to be done in the state on the basis of 85th constitutional amendment.
While the SC/BC cadres and general cadres are already in a tussle over the reservation policy and promotions, the SC employees also demanded increase in reservation for the cadres under B and C category from 14 to 20 per cent through promotion.
The front also demanded the taking back of the government letter regarding seniority lists released on October 10, 2014.
Convener and co-convener of the front, Gurmail Sigh Chadar and Avtar Singh Kainth, said the state the government was trying to rob the Dalits of their constitutional rights.
They termed the October 10, 2014, letter against the reservation policy and demanded that it should be taken back.
They said the children belonging to lower strata were not being given concession in fees and various schemes meant for the poor were also not being implemented.