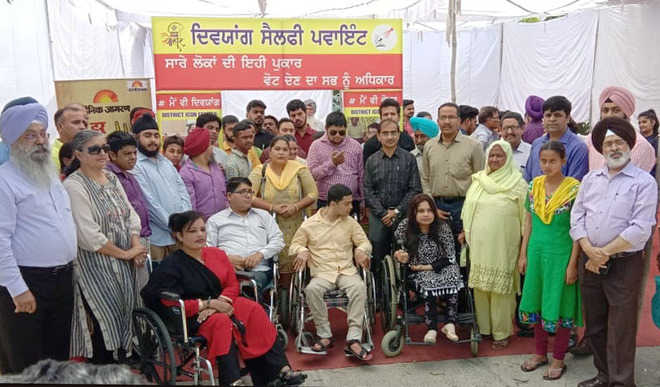 Aparna Banerji
Tribune News Service
Jalandhar, April 18
Braille voter slips, pick-up and drop facilities, wheelchairs and special ramps for better accessibility to booths are some facilities that will be provided by the Election Commission to the voters with disabilities ahead of the elections.
While 11,000 Persons with Disabilities (PwDs) have been registered as voters in Jalandhar so far under the Election Commission's PwD app, the district administration will make several arrangements, including 2,000 wheelchairs, 400 voter guides and 400 Braille voter slips for visually impaired persons, for voters.
To boost enrolment, an event — selfie point — for PwDs was held by the Chanan Association on Thursday.
District icon for PwDs Vivek Joshi, singers Mandeep Mand, Simran and many RJs of the city specially came to get selfies clicked with voters.
The last date of voters' enrolment through the PwD app was Thursday. The number of PwD voters in the district, which was over 6,000 during the last elections, has reached 11,000 this year.
Amarjit Singh Anand, president, Chanan Association, said, "Due several issues, including problems of accessibility, the enrolment and voting percentage of disabled voters has affected. But with the PwD app, a support system has been created. The disabled voters will be picked up from home. We have also created this selfie point as one of the attractions for voters."
Joshi said, "Many promises are made to disabled voters every time. This year, ramps, Braille voter slips, magnifying lenses and accessible toilets have been promised."
ICons for voters
Vivek Joshi (38), a physically challenged youth from Jalandhar, had revived a national award in the self-employed category for his services to society in 2016. He had received the award from the then President, Pranab Mukherjee. Vivek has formed an NGO, Madhav Sewa Society, which has been providing free education to 61 students, including specially abled.
Jalandhar-based assistant professor Mona Goyal received the National Disability Award in Dcember 2018. She was awarded by President Ram Nath Kovind for showing indomitable courage in her field. She was among the three persons from the state who were chosen for the award.
.