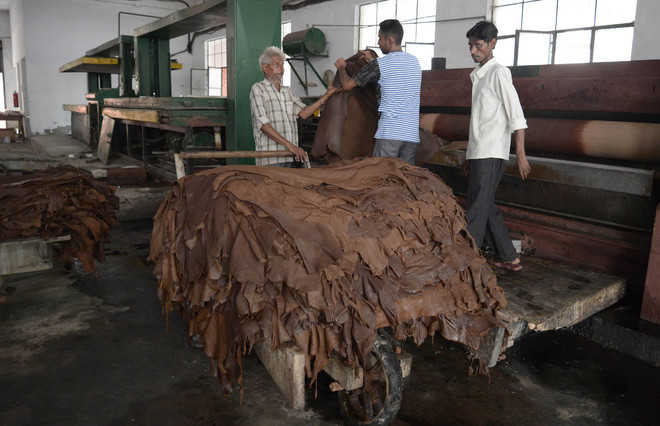 Tribune News Service
Jalandhar, January 3
With the Punjab and Haryana High Court staying the National Green Tribunal (NGT) order of shutting down 19 tanning units, leather manufacturers have heaved a sigh of relief.
Being the peak season for tannery owners, the city-based manufacturers were in trouble since the imposition of the recent NGT orders.
The tannery owners had been claiming that the NGT had issued orders in a hurry as it did not provide a chance for hearing to them. They also accused the green body of ignoring the fact that their case is already in the High Court.
The court had even set up a pollution monitoring committee with the Deputy Commissioner as its chairman. Even the Chief Engineer of the Punjab Pollution Control Board has regularly been visiting and giving status reports of treatment plants and other facilities to the court from time to time.
Leather manufacturer Amandeep Sandhu said, "The stay on the orders of the NGT has vindicated our stand on the issue. We had already been saying that the orders were issued in a hush-hush manner without taking into account the ground details."
Leather manufacturers said their drums were lying sealed by the PPCB. They said their units were running way below the capacity owing to lack of provision of Central Effluent Treatment Plants of the required capacity.
Top News
Says strength of democratic institutions to figure in discus...
BKU protests as sunflower not procured on MSP
Kuki insurgents target soldiers' camp in school
NCB unearths pan-India trafficking | 6 held, all in their 20...