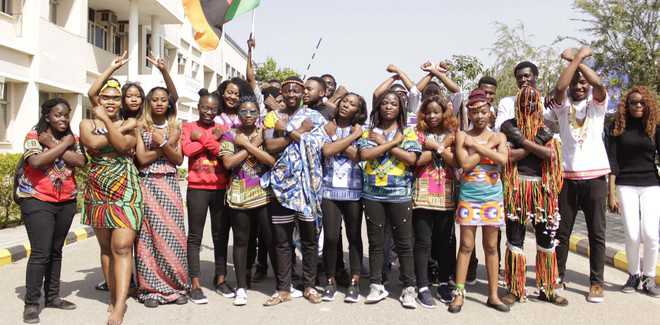 Our Correspondent
Jalandhar, March 15
With an aim to promote international oneness among thousands of students, CT Institute of Hotel Management (CTIHM) organised 'United World Fest' on the theme 'Vasudhaiva Kutumbakam' (the world is one family) in association with Spice Chef Spices.
Students showcased the culture and food of 10 different countries—Italy, United Kingdom, China, Egypt, Portugal, Zambia, Indonesia, Dubai, Nepal and Afghanistan.
At an exhibition students exhibited— monuments, archaeological objects, architectural designs, wildlife, landscapes, geological supremacies, antique acquirements, cultural and allied arts and other dominances of different countries.
International dance forms were another big attraction. Students from China presented fan, dragon, lantern dances; Egyptian students presented pyramids and mummy; Portugal students came out with cruise and waterfall. Students from Zambia performed Zambian tra; Afghanistan with Attan Dance form; Italian students mesmerised with Wine cellar and Italian Metro station; Dubai students thrilled others with Burj Khalifa, Burj Al Arab, Dessert Safari and Palm Island; Students from Nepal were applauded the most for Mount Everest and Pashupatinath Temple ; whereas, Indonesian students presented Volcano and student from UK presented Stone Henge, Big Ben, London Eye and London Bus.
Similarly, they relished Chinese Dimsums, Burger, Hakka Noodles, Kothey momos, Yung Chong fried rice; Italian Mozzerella pops, creamy yummy pasta, lusty lime virgin; Grilled cheese bruschetta.
The event was adjudged by Sabyasachi Chatterjee, General Manager, Fortune Avenue and Himanshu Wadhwa from Spice Chef spices. The best stalls and performances were rewarded. The Zambia won the cash prizes of Rs. 51,00, Nepal won the cash prize of Rs 31,000 and the Afghanistan won third prize and cash reward of Rs 21,000.
Appreciating the efforts of the department, CT Group Chairman Charanjit Singh Channi said: "International celebrations teach us emphatically what oneness, friendship, peaceful existence and bonds of togetherness means."