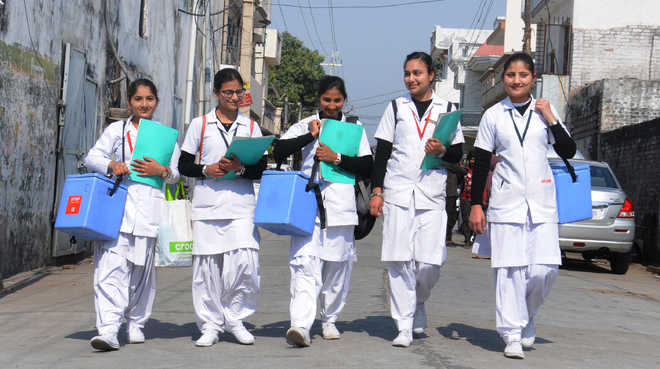 Tribune News Service
Jalandhar, June 13
As many as 1,089 health teams shall administer polio drops to 1.38 lakh children between the age group of 0 to 5 years during a special campaign from June 16 to 18.
Additional Deputy Commissioner (Development) Kulwant Singh, who is officiating as Deputy Commissioner, Jalandhar, said: "Out of 1,089 teams, 1,002 house to house teams, 33 transit teams and 54 mobile teams shall be formed for the successful completion of the campaign."
"A total of 152 supervisory teams shall be constituted to monitor the drive. The mobile teams shall administer polio vaccine to children living in semi-urban areas, slums and factory campuses. Transit teams shall administer the drops to the children at bus stands and railway station," added Singh.
He directed the —education; rural development and panchayat; public works and transport departments— District Programme Officer, general manager bus stand and railway officials to support the drive.
The ADC asked officials concerned to create an awareness among the general public though public address system, ground level health workers, sarpanchs, councillors and others to make the drive a success..
District Epidemiologist, Dr Satish Kumar said, the teams would cover bus stands, railway stations, and markets besides brick kilns, slums with migration, construction sites and other areas during the three-day drive.
Dr Kumar said the Health Department shuld make concerted efforts to make the drive a success in the district.
He said: "The natives of other states residing in slums and brick kilns workers shall be covered during the campaign. The country has been declared polio-free on March 24, 2014. Since then, no polio case has been reported," he added.
Dr Kumar said: "This should be a sub-national immunisation drive and the second such drive be organised in September this year."
Top Stories