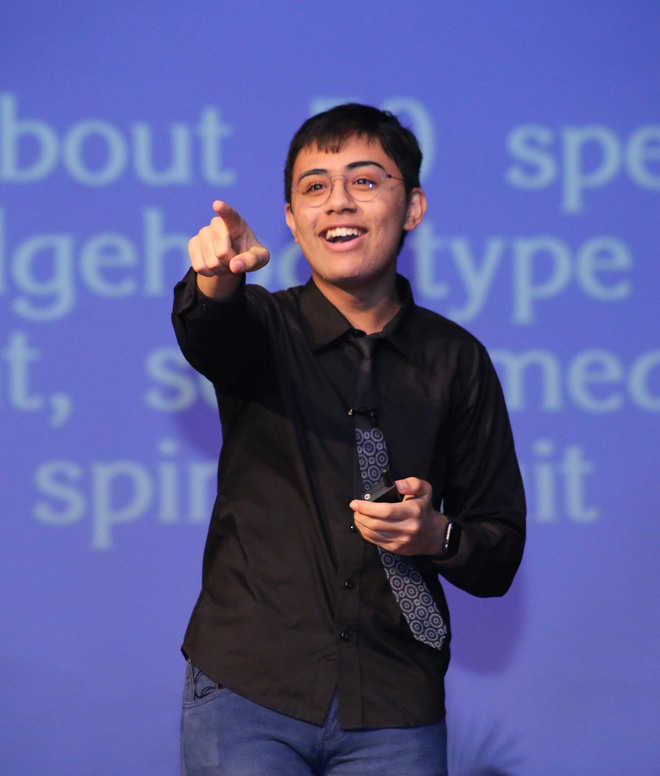 Ajay Joshi
Tribune News Service
Jalandhar, December 6
"I myself have been a victim of fake news, where one of my TED talk videos was uploaded on Facebook with the caption that I work for Google and make billions of dollars every year," said Tanmay Bakshi (15), the youngest creator of the world's first natural language question-answering system.
The self-taught teenager developer, reached Lovely Professional University (LPU) on Thursday and unfolded the future of 'Machine Learning' (ML). He said with the help of ML technology, one can easily get rid of fake news as well as dispensable data.
Born and brought up in Toronto, Canada, Tanmay developed interest in coding and programming at the age of 5 and when he was 7, started his own YouTube channel where he shared videos on computing and helped coders innovate.
In addition, Bakshi already has a couple of apps in the Apple app store. He is also the world's youngest IBM Watson programmer. IBM Watson is an intelligence engine which handles Artificial Intelligence (AI) as well as the Internet of Things (IoT).
Addressing a gathering of scholars and students, he said Artificial Intelligence (AI) will not replace humans. "Exact AI does not exist, while machine learning is futuristic and is meant to augment you. AI is hard to define. Simply put, it is simulating full human intelligence. AI is nothing. It simply does not exist. And thus, AI cannot replace us. It is machine learning that we misinterpret as AI. True, AI would be exactly like us. It can replace humans, but that technology does not exist."
Speaking with the Tribune, he added, "Machine learning is impacting many lives across the globe, even in sending text messages, without realising that this is all through machine-learning technology. I think there is a huge gap in learning and I have to help hundreds and thousands of aspiring coders to innovate."
Presently, the world's youngest IBM Watson programmer and IBM cloud champion, Tanmay stressed on using 'machine-learning algorithms' for processing the unstructured data generated by humans.
First app
"I had built an app called tTables which helps you learn multiplication tables. I released it in the app store when I was nine-year-old which was later accepted in the app store in 2013," he said. Thereafter, he developed several other apps and codes and interest for coding led him to create the 'AskTanmay' app, which is powered by IBM Watson.
MI to diagnose depression and disabilities
Through a live demo for mental state of a person, he explained that ML lets computers recognize patterns in enormous data sets and act on them. Through this, he exhibited that the mobile screen used for this particular mobile app turned orange-yellow when the person under experiment was concentrating and the screen was green when the person was relaxing. Hence, the signals transferred by human brain could be asserted. In the healthcare sector, he added that AI can track depression at a much earlier age, diagnose hearing disorders and help researchers perform clinical trials in a professional way.
The cognitive story
Bakshi is working on a project called "The cognitive story," that can help people who have lost the ability to communicate naturally or due to any accident.
He is working on a 29-year-old woman "Boo", who lost the ability to speak at a young age. A cognitive tech will augment her ability to communicate with the outside world. "I will use cognitive computing and artificial intelligence technology to decode EEG brain waves in order to comprehend what she is saying," said Bakshi. Besides, he is also working in agricultural projects that will help determine how much nutrient a plant needs.
Tanmay also pointed out that in future, there will be two types of jobs —- where it will be required of humans to tell computers what to do; and those where computers will tell humans what to do.