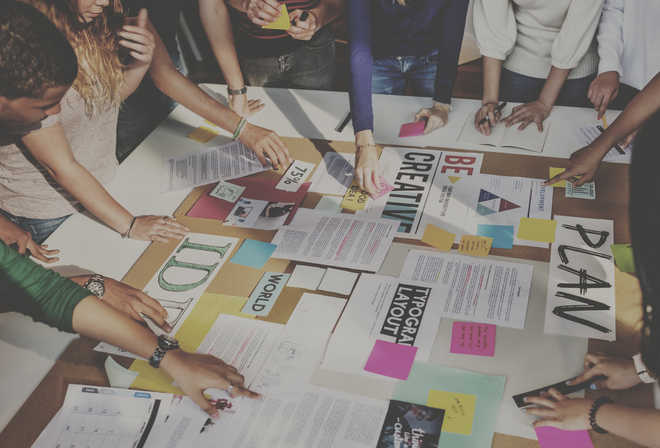 vermaajay1968@gmail.com
O.P. Jindal Global University (JGU) has signed an agreement with the Wharton School's Aresty Institute of Executive Education. Fifty-five students, selected on merit from the Jindal Global Business School (JGBS), Jindal School of Banking & Finance (JSBF), Jindal Global Law School (JGLS) and Jindal School of Liberal Arts & Humanities, will represent JGU at the Aresty Institute of Executive Education at the Wharton School, University of Pennsylvania in July 2020.
The agreement to launch this programme was signed last week by Professor C. Raj Kumar, Founding Vice-Chancellor of O.P. Jindal Global University and David L. Heckman, Senior Director, Global Partnerships, Aresty Institute of Executive Education at the Wharton School in the University of Pennsylvania.
The programme on 'Business, Finance & Entrepreneurship for Leaders of Tomorrow' at The Wharton School will cover four specially designed modules:
Global Business Strategy and Mergers & Acquisitions" (M&A)
Entrepreneurship & Technology Innovation
Managing & Marketing for Start-ups
International Banking & Financial Markets.
The course modules will be offered by the Wharton faculty who are world-leading scholars in their respective fields of business and finance. Students will receive a certificateon successful completion of this summer programme.
AI Learning for schools
The Central Board of Secondary Education (CBSE) has announced that it will conduct Capacity Building Programmes for high school teachers in association with Microsoft India with an aim to integrate cloud-powered technology in K12 teaching. Meant for teachers of gradesVIII-X, the programme will be conducted in 10 cities across the country, starting September 11, 2019.
This programme will provide teachers better access to the latest Information and Communication Technology (ICT) tools and help them to integrate technology into teaching in a safe and secure manner, thereby enhancing the learning experience and 21st century skills of all students. The 1,000 teachers nominated by CBSE will undergo a three-day project-based training for practical, hands-on knowledge of Microsoft 365 tools such as OneNote, Flipgrid, Teams, Outlook & Minecraft and Paint3D Microsoft.
The programme will also offer them the opportunity to become Microsoft Innovative Educators.
In the next phase the programme will be extended to cover skilling workshops for 400 CBSE School on the Microsoft K-12 Education Transformation Framework. — TNS