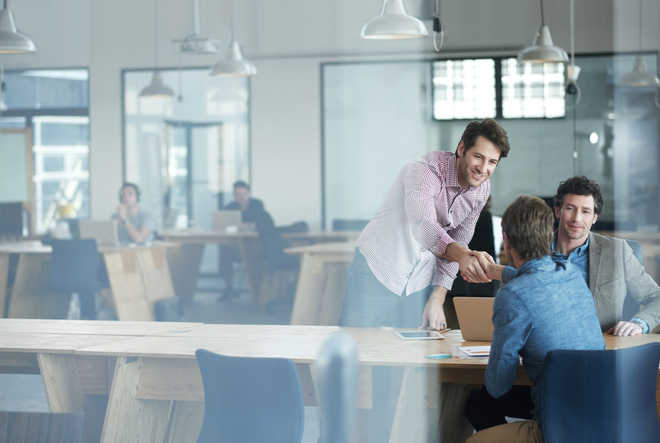 Swati Khatri
One can say that with the free flow of information, it has become easy for professionals to reach out to each other. But this ease of contact, brings in its own challenges. Yes, it's easy to connect but equally difficult to make an impact. So how to get your networking game right. Let's talk about this further.
Make a connection
For a long time, professionals believed that networking meant having a lot of email addresses in their mail box or enough of connections on their LinkedIn profile. But how many of them will respond when you reach out. The key lies in building relations and not just collecting data.
You need to make sure you communicate with people. Talk to them when you meet them, talk to them on social media.You don't need to be popular or super friendly to establish such communications. Showing up at get togethers and having meaningful talks will serve the purpose. R.P. Yadav, CMD,Genius Consultants Ltd. sums it up as,"Establishing successful basis of communication with your industry mates is significant in expanding your network."
But remember that striking a conversation doesn't mean that you have to barge into every other talk. Don't be in a hurry,understand which place is favourable for you to talk and act accordingly.
Help them achieve their goals
Observe the problem professionals are facing in achieving their goal. They might be looking for some raw material and you can help them with it. Don't undermine the power of word of mouth promotion. Even if there are a lot of service providers/vendors in the market, people will appreciate the ones who showed up at the right time. These appreciative phrases will soon make their way to the right professionals.
What is important is to help others genuinely. If you help them once and start asking for favours right away, it won't work for you. Yes, you need to grow as well but make sure you ask for something only after a connection has been established. And you don't come across as someone who is too needy." If you are not genuine in your actions and conduct, people around you will discover this and loose interest in networking with you," says Rajiv Naithani, HR Head, Infogain Corp.
Don't limit your connections
One mistake that professionals make is that they limit their interactions with people from their own industry. It's not just about the industry mates but also your customers, your vendors, professionals from other industries etc. you need to network with.Every connection can help you in their own way. While people in your industry can help you be informed about the latest trends. Mentors from other industry can give you unbiased advice. Yes, your work profiles won't necessarily be the same. But you can be sure that the advice is neutral. Similarly, if you are into B to B industry don't hesitate to meet someone from B2C backgrounds and vis a vis. They can provide you with the right insights you are looking for. Neeraj Shah, Founder, Titan Mastermindz LLP also points out that, "Diversity in a network allows you to be exposed to new perspectives. Which is a crucial element in this fast-changing world."
Requires consistent work
Networking is not something you can do today and come back to it after six months. It requires consistent work. Find out who are the key players in the industry and try to connect with them. They might not notice you just at the beginning but a consistent effort will surely help. Remember without consistent efforts you are just a profile picture on your LinkedIn account.
Be visible
If you are not seen in your professional network you are surely missing on somethings. The best way to be visible is to share information. Everyone will appreciate a genuine effort for the same. Write blog posts on industry insights. You can also share information through social media and emails. Don't worry, you don't need to be super expressive to do so. You can stick onto informing people about latest trends and statistics. Speak about market trends and send such information regularly on a monthly or bimonthly basis. Vikas Arora, Director Tutelage Professional Pvt Ltd. stresses this point as, "The moment you start sharing such updates on various platforms your business relations will be enhanced."
Top News
Lived in self-imposed exile in the UAE to avoid criminal cha...
After his failed misadventure in Kargil, Musharraf deposed t...
Military shoots down the surveillance balloon in Atlantic Oc...
Congress leader Jairam Ramesh says starting Sunday party wil...
The incident took place on Friday when Kambli reached his fl...