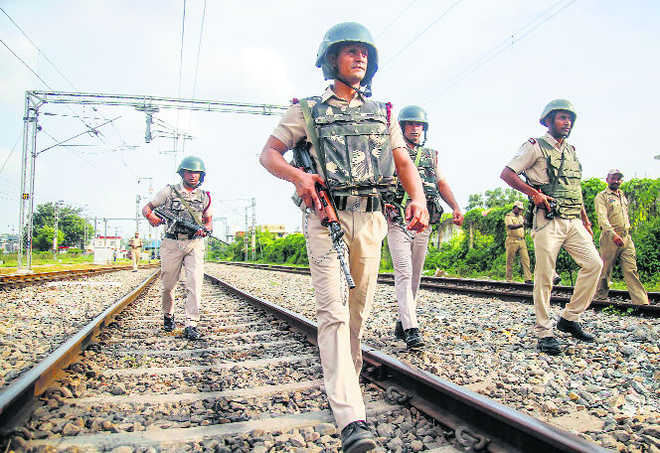 There are seven main divisions of the Central Armed Police Forces (CAPF): Border Security Force (BSF), Central Reserve Police Force (CRPF), Central Industrial Security Force (CISF), Indo-Tibetan Border Police (ITBP), Assam Rifles (AR), National Security Guard (NSG) and Sashastra Seema Bal (SSB). Of these, recruitment to first five is done by the UPSC through Central Armed Police Forces (ACs) Examination. Let's know about these five forces in detail.
Border Security Force
The Border Security Force (BSF) is the border defence organisation of India, alias first line of defence. Established on December 1, 1965, it was raised in the wake of the Indo-Pakistan War. The main role of the BSF is to keep a watch over international borders against intrusion during peacetime and preventing transnational crime. It guards the Indian borders shared with Pakistan and Bangladesh and is deployed both on the International Border (IB) and Line of Control (LoC).
Strength: The BSF has grown 186 battalions with a sanctioned strength of 257,363 personnel including an expanding air wing, marine wing, an artillery regiment, and commando units.
Central Industrial Security Force
Raised in 1969 after the recommendations of Justice B Mukherji, its role is to monitor the Central Government industrial complexes. However, the CISF is no longer a PSU-centric organisation. Instead, it has become a premier multi-skilled security agency of the country, mandated to provide security to major critical infrastructure installations of the country. It is currently providing security cover to nuclear installations, space establishments, airports, seaports, power plants, sensitive government buildings and many heritage monuments. A unique feature associated with CISF is that it has a fire wing, which provides assistance during major fire outbreaks.
Strength: Its current active strength is 1,48,371 personnel. In April 2017, the government raised the sanctioned strength from 145,000 to 180,000 personnel.
Indo-Tibetan Border Police
Raised on October 24, 1962, in the wake of Sino-India War, the ITBP personnel monitor the borders and also stop smuggling and illegal immigration. The ITBP also has a water wing, which guards the riverine borders of the Himalayan region which includes Pangong Lake, the Brahmaputra region in Arunachal Pradesh, and the Indus in Jammu and Kashmir.
Strength: The ITBP, which started with four battalions, has since restructuring in 1978 has undergone expansion to a force of 60 Battalions with 15 Sectors and 5 Frontiers as of 2018 with a sanctioned strength of 89,432.
Sashastra Seema Bal (SSB)
Established in 1963, the SSB guards the Indo-Nepal and Indo-Bhutan borders. It was only in 2014 that the government approved the recruitment of women as combat officers in SSB. Formerly known as the Special Service Bureau, their job is to control anti-national activities.
Strength: As of 2017, it has 76,337 active personnel in 73 battalions.
Central Reserve Police Force
Established in 1939, its main role is to assist the state police or UT police in maintaining law and order. It is deployed in every part of the country, actively looking after the internal security. The CRPF contingents are also being deployed in the UN missions. CRPF also plays a major role during the General Election. The Mahila Battalion (88th Battalion of CRPF) commissioned on March 30, 1986, is the world's first paramilitary force comprised entirely of women. CRPF is further bifurcated into two units: Rapid Action Force (RAF) and Commando Battalion for Resolute Action (COBRA)
Strength: With 239 battalions and various other establishments, the CRPF is considered India's largest paramilitary force and has a sanctioned strength of more than 3,00,000 personnel as of 2017.