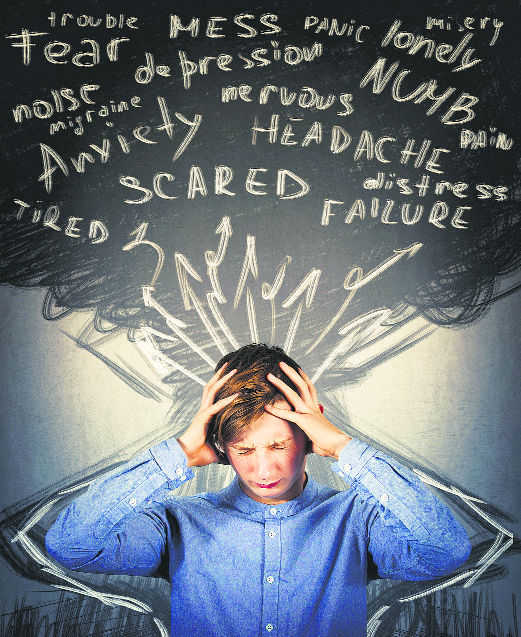 The constant worry about what will the future look like is called 'anxiety' and obsessive anxiety is termed as an 'Anxiety Disorder'. The human mind is a mystery and the emotions it exhibits are confusing. At an intellectual level, it's easy to say 'Don't be anxious' but at a practical level, it's difficult to not be anxious.
Each one of us has experienced anxiety at some point of life — from results of an exam or of a job interview, a presentation or at our first ever sports tournament or the first date. Anxiety, when unchecked, goes on to become depression. Let's look at some simple yet powerful solutions to dealing with anxiety wisely:
1 Pranayama: Anxiety is always about the unknown in the future. This means the more we can keep the mind in the present moment, the less anxious we shall feel. The breath is always in the present moment and using that as a tool in pranayama, we can surely beat anxiety to a great extent. A lot of scientific research in this field also yields similar results.
2 Mindful meditation: Stress activates the stress hormones making you anxious. When you meditate, these stress hormones are lowered making you feel relaxed. Being more aware of our emotions and patterns makes us more emotionally intelligent and able to handle these negative emotions.
3 Ayurveda: Taking anti-anxiety medicines may have side effects on the mind body complex and hence using the age old tried and tested Ayurvedic medicines might be a better idea. Ayurveda is the oldest school of medicine in the world and treats the problem at the root cause level and not just the external symptoms. Also avoid binge eating and other such failed methods to reduce anxiety.
4 Change life perspective: Anxiety builds up because we fear the uncertainty of the future. But have you noticed — everything is changing. The good and the bad both change. When we understand the impermanence of the world and its events, we don't get so anxious about an unpleasant future. So when unfounded fears like "I will never get a good college or a great job" or "What If" series of questions pops up in your mind, know that you will have your share of good times and bad times and both will keep changing.
5 Do some seva/service: Anxiety is all about 'me' and seva or service is all about 'what can I do for others. Hence seva/service is the perfect antidote to anxiety. People who make themselves feel useful by helping others don't face so much insecurity about the future.
Research says million people across the world today suffer from mild to serious variations of anxiety.
— The writer is a TEDx speaker and an international meditation teacher with AOL Foundation