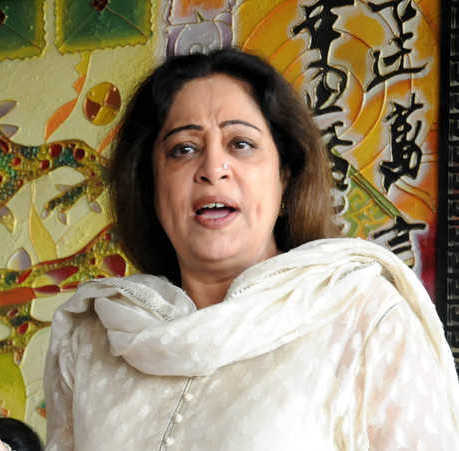 ROBINSINGH@TRIBUNE.COM
Sandeep Rana
Tribune News Service
Chandigarh, August 18
Stating that the Chandigarh Housing Board (CHB) should be closed if "there are so many problems", local MP Kirron Kher also cautioned CHB dwellers against making "needless changes" in their flats.
"If the CHB is closed, it is not that violations done by you will not be looked into. In the name of need-based changes, needless changes cannot be allowed. There are some who have made rooms, shops or stairs inside flats. This is harmful for you only as the structure becomes dangerous and can fall anytime," she told Crawfed (Chandigarh Residents Associations Welfare Federation) members at the community centre in Sector 43.
Referring to the Punjab and Haryana High Court directions regarding violations in CHB flats, Kher said, "Now, the court has stepped in. The court had summoned the CHB and the Finance Secretary in this regard. They were asked to issue on-the-spot notices and raze violations. How can we stop them? Officers will have to face contempt if they do not act and will lose their jobs." The BJP leader said refused to buy the argument that if families were increasing, then changes should be allowed in flats to accommodate them. "You have chosen to live in Chandigarh over Mohali or Zirakpur (where one could have more space) as the city is a good place to live," she said.
Owners of 50,000 CHB flats have made need-based changes in their houses over the years. The Administration had issued notices to them as the changes were not regularised by the CHB. Earlier, UT Administrator VP Singh Badnore had halted action against additional constructions, alterations and other violations till September 30. A committee had found that about 90 per cent of the flats had changes such as additional rooms and toilets, conversion of balconies into rooms and courtyard and stairs on government land. The flat owners had been demanding regularisation of these for long.
---
Street Vendors to be shifted soon
Expressing shock over street vendors all over the city, Kirron Kher told residents that they would be shifted soon.
"A case in this regard is pending before the court; once it is decided, the vendors will be removed and they will not be allowed to crowd outside shops. They will be shifted," she said. She said soon a company would be finalised to process garbage, which would resolve the waste processing issue.
.
Top Stories