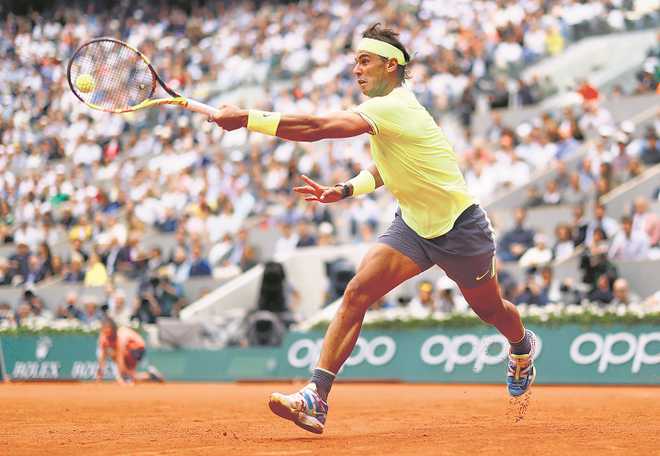 singhking99@yahoo.com
Rohit Mahajan
The hair is thinning, the knees are crumbling, the ankle has been cut and mended — but at 33, Rafael Nadal's spirit is stronger than ever before. The power of his forehand is still ferocious; the top-spin created by that extremely high, shoulder-wrenching forehand drive is still awesome. He continues to crush opponents as if they were dust. No wonder Dominic Thiem, his victim in a second consecutive French Open final, repeatedly said Nadal had "stepped over" him. That's the Nadal effect — it's almost akin to being hit by a speeding truck. The wreckage is often ugly, and the scars are both physical and mental. Just as Roger Federer, the greatest player of all time, yet four times a Nadal prey in French Open finals.
Winning the French Open once is gruelling enough; doing it twice is stupendous; but what Nadal has done, 12 titles won on the rust-red clay of Paris since 2005, is beyond miraculous. No superlative is adequate enough to fit this feat. Nadal has won four French Open titles in one stretch (2005-08), five in another (2010-2014), and has now won it three times in a row from 2017. In the 71 years of the Open Era, Gustavo Kuerten, Sergi Bruguera, Jim Courier, Ivan Lendl and Jan Kodes won the title in consecutive years; the immortal Bjorn Borg won once in two consecutive years, another time four years in a row. With this background, it's clear that what Nadal has achieved — 12 titles in 15 years — is clearly insane.
Nadal's mastery of the French Open defies belief; it's only 20 years ago that Pete Sampras equalled Roy Emeron's overall Grand Slam record of most wins, 12, at Wimbledon 1999. Incredibly enough, now Nadal has 12 titles in one Grand Slam.
Who's the best?
The tennis fans of 20 years ago had no clue that a trio of amazing European players, each superior to the other in certain aspects of the sport, would be upon them soon. The advent and feats of Nadal, Federer and Novak Djokovic have quashed the claim Sampras briefly held on being the greatest of all time. Now, beyond the shadow of a doubt, Nadal, Federer and Djokovic are the greatest of all time. Which among the three is the greatest? Well, it boils down to the individual preference of the analyst: Federer, considering the number of Grand Slam titles he's won (20), and the beauty of his game, gets the most votes from tennis players, analysts and fans. But it can be argued if Federer is the greatest, then Nadal is greater than the greatest — the bullish Spaniard holds a 24-15 advantage in their head-to-head record, after all. Before the French Open semifinals this year, Federer had beaten Nadal five times in a row, from 2015 to 2019. But here was the catch — those wins by Federer were on hardcourts, which Federer prefers. In the French Open semis, though, the surface was different, and the result was consistent with the past — Nadal's sixth win in six matches against the greatest in Paris. Greg Rusedski, the former British No. 1, says that Nadal's feat will be talked about in 200 years. He's right.
Final story
Thiem, at 25, was primed to beat Nadal, who had lost thrice in the claycourt season and was supposedly vulnerable. But Nadal fought like a tiger, as he always does; he was brutal, and though Thiem broke him midway through the first set, the brutal Nadal immediately broke break, and then once more to overturn a 2-3 deficit and take the set 6-3. This was decisive: Nadal had never lost a five-setter on claycourts after taking the first set.
The second set was exhilarating — it saw Thiem at his best. His first serve worked well, his court coverage and ground strokes were top class. He broke Nadal in the 11th game, and took the set 7-5 — the first set dropped by Nadal in a French Open final since 2014.
Nadal's reaction: Predictable. Brutal. Crushing. Gamechanging. He blasted Thiem off the court, winning the next two sets 6-1 6-1. Nadal is a nice man, and after the match he almost apologised for doing this to Thiem: "I feel sorry because he deserves it. I really hope he has chance to win in the future. He has unbelievable passion and intensity for this sport…. I know how tough it is to lose finals but that's sport. If I wanted to lose to someone, it would be to you."
But no, Nadal doesn't want to lose — nobody does, but Nadal on clay has the tools to ensure that he's not beaten in five-setters on clay. At 33, with a history of debilitating injuries, that's incredible. That's the power of the mind of this man from Spain.
FAST FACTS
12 Rafael Nadal has won the crown a dozen times now: 2005, 2006, 2007, 2008, 2010, 2011, 2012, 2013, 2014, 2017, 2018 and 2019
1st The Spaniard is the first player in tennis history, male or female, to win the same Major 12 times. The second-best is 11 Australian Opens won by Margaret Court
2 Nadal is only two Grand Slam wins behind the all-time record of 20 by Roger Federer, and three ahead of third-placed Novak Djokovic's 15
18-8 Is his win-loss record in Grand Slam finals. Federer has reached 30 Grad Slam finals, won 20 and lost 10
950 He now has 950 career Tour-level match win, which is fourth-ever highest win, behind Federer (1,207), Jimmy Connors (1,156) and Ivan Lendl (1,069)
2 losses
He's lost only two matches at the French Open, winning 93. His two losses were against Robin Soderling in 2009 and Djokovic in the quarterfinals in 2015. He got his 260th career Grand Slam match win. He is still in third place on the men's all-time list, after Federer (347) and Djokovic (270).
10
He became the first player to beat Federer 10 times at Majors. Djokovic has the next-most wins over Federer at the Majors, nine; no one else has more than two.
All readers are invited to post comments responsibly. Any messages with foul language or inciting hatred will be deleted. Comments with all capital letters will also be deleted. Readers are encouraged to flag the comments they feel are inappropriate. The views expressed in the Comments section are of the individuals writing the post. The Tribune does not endorse or support the views in these posts in any manner.