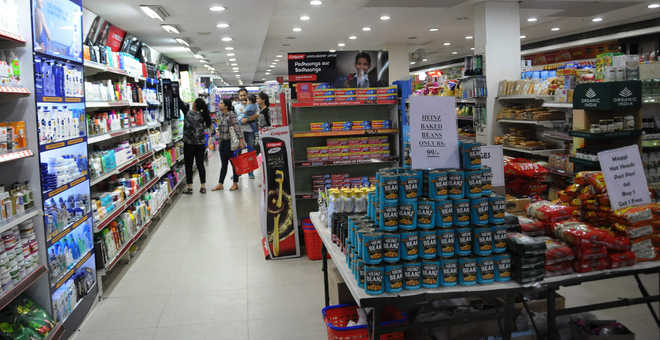 harinder@tribunemail.com
Now-a-days, people think more about quality, nutritional value and environmental impact of the food they eat. When one buys a car, he tries to know about its service history and when one purchases a house, he gets a detailed survey done. Then why do we show negligence when it comes to choosing the right food items. Owing to the lack of availability of adequate knowledge, absence of proper food labelling, as well as advertisements tactics affecting the informed choices, various food-bornr diseases erupt at a very fast rate. To curb all these problems, a consumer must be informed about the products of daily use. The consumers must be supplied with complete information of all the inputs which are used in that particular item. If there is any dilution in information of the food item, the supplier must be put behind the bar.
Farzana Khan
---
Responsible food labelling and marketing
Companies must take the ethical path while selling their products. Along with carrying out their business, shopkeepers are also socially responsible to make the consumers very well aware of the product they are selling. The label must carry the right information of the product. Healthier marketing is also necessary. Which product is good for children, young or older ones and how it will make them more fit and healthier in life is a manufacturers' duty.
Nitin Sethi
---
Getting more value, nutrition and beyond
One of the ways to make smart food decisions is to act vigilant when it comes to the ingredients of food or beverage. The best way is to find this out is by reading food labels, including the nutrition facts and product ingredient lists. Make it fun and involve children or other family members. Food labels can also help consumers get the products that best meet their health needs
Vishwas Bhalla
---
Food label, a powerful tool for customers
Labels are a way to inform consumers customers about , but they should not be misleading, they should reflect the true nature of the product. In addition, labels should also be easy to understand by all consumers. Even the less educated ones should be able to comprehend labels so as to become more aware. It is critical to assist consumers in making healthier choices, so providing information on menu will help them assess the energy content of the product. Colour-coded schemes are the most appropriate tool to fulfil this goal as they help consumers identify products with high in calories, fibre or protein
Kritika Bhalla
---
Verify nutrition label declaration
Consumers must know what type of food they are consuming .Most of the packed foods have labels. These food labels contain information about nutritional, ingredients, date of manufacturing, expiry date and so on. The energy provided by the food in the form of carbohydrates, proteins and fats and symbol of vegetarian or non-vegetarian food are clearly mentioned on the packet. In this tech-savy age, we,as consumers, must go through the information in order to make healthy and safe food choices. We must also be aware of our rights as consumers
Manmohan Kaur
---
Standardised labelling needed
Most consumers find it difficult to know about the food they are consuming, that is why food labels are required on most foods. A standardised format defined by the Food and Drug Administration must be adopted. While many people are somewhat familiar with food labeling, such as the nutrition facts panel, it may still be challenging for some to pick the information quickly, given the ample choices available to the consumers.
Kirti Khosla
---
Personal hygiene and food safety
The mouth watering delicacies served by most of the street vendors and in some of our restaurants are neither healthy nor hygienic, causing a number of diseases. While consuming these foods frequently, the consumer and the food safety officers must pay attention to the hygiene of the people preparing and serving the food and also to the surroundings where they are prepared and served.
Dr Ashwani k Malhotra
---
Make enlightened choices
An informed food choice is all about food consumption. It is a choice that should not be made blindly. It is an enlightened choice made by the individual based on information which has been obtained by him. The aim of disclosing information is to ensure transparency in food market, which is believed to enable a consumer to choose foodstuffs according to the nutrients they find relevant. Food choice is an ethical concept based mainly on two ethical principles - autonomy and integrity.
Sanjana Bhandari
---
Eating right to stay healthy
Making right food and nutrition choice is a necessary part of daily life. A person is what he eats. Nutrition labels help an individual in making a significant decision about what to buy or consume. Some important factors that an individual should consider are calories, cholesterol, fat, sodium, carbohydrates and protein. A consumer should always look for food low in fats and sugar and high in protein and carbohydrates. So, eating right can always lead to a better lifestyle but it all starts with making right nutrition choices.
Ravleen Kaur
---
Need to become more conscious
People are getting more conscious about their health due to their lifestyle. They are investing more money on consuming packed food. Whenever they buy any product, they look for nutritional facts first which include percentages of trans fat, proteins, carbohydrates and energy. Same should be written on the menu cards in restaurants. All nutritional values should be posted so that people can consume products accordingly.
Sharanpreet Kaur
---
Staying proactive
Consumers should stay alert and check all the details on the package in case of packed food and ask what they fail to understand so as to make an informed and rational choice. In case of any doubt, they should seek information from the staff or use internet to make themselves informed. In case of unpacked food, they should see to it how the vendors prepare the food. Consumers should take care of the fact that the venders should wear gloves and that the cleanliness is taken into care by the vendor.
Ekroop Kaur
---
Seek help of RTI Act
If any consumer wants to get information regarding any food item, he can get it with the help of right to information. If any consumer finds that any product is inedible, he can complaint or appeal in the consumer court because it is a duty of the consumer to remain vigilant. Consumers should be aware of the ingredients before buying any product.
Karanpreet Kaur
---
QR codes to serve purpose
The idea of informed food choice is that consumers should be well aware of food they consume in order to respect his integrity and autonomy. Food manufacturers should be encouraged to apply sound nutrition principles. Poor communication between producers and brokers in the food sector make it even harder for consumers to find much-needed information for food. Food labels have been introduced to reduce complexity. Food information can also be presented by use of internet. QR codes on packaging can make information on food product easily for consumers by the use of QR scanner in mobile. It is user friendly as it allows consumers to search for information.
Shubhangi
---
Buy only certified products
Food is our lifeline. We should make proper choice of our food. The food we consume should have high nutritive value. As in today's era, most of the things we consume is either adulterated or of low nutritional value. So, we should be informed about our food intake. We should check the nutritive value of the food, amount of calories and fats in it .We should buy food products which are certified. Ingredients should be checked. These steps are must to prevent ourselves from various diseases as it is rightly said, 'Eat healthy, be healthy'.
Aliza
---
Advertising to influence choice of consumers
Today, consumers make an informed choice about food through advertisements, which are telecast on TV, and published in newspapers and magazines. Not only this, education of home science is also proving to be of great help.
Neetu Giri
---
Accurate, truthful nutrition labels must
Consumers have the right to know what they are consuming. Providing consumers with nutritional information enables them to monitor their diet and maintain healthiness. Nutritional information will ensure quality and communication between industries and consumers will be strengthened. The information regarding the serving size, calories, fat and energy should be there. Government leadership in food regulation is key to ensure all companies' policies are aligned. Even the World Health Organisation (WHO) clearly links marketing of foods high in sugar, salt etc.
Dr Jasdeep Kaur
---
Judge, compare, choose right food stuff
An informed food choice is all about right food consumption. It is a choice that should be made by keeping health aspects in mind. The aim of disclosing information is to increase the transparency of food market which is believed to enable consumers to judge, compare and choose foodstuff according to the values and preferences they find relevant. More informed food choices will result in a healthier lifestyle.
Manpreet Kaur
---
Advertisement to affect consumer behaviour
Right to information is each and every consumer's right and they should be made aware of what they consume. Now-a-days, people consume products after getting influenced from social media advertisements, without getting into the details of the ingredients. Nutrient labelling can help people suffering from health issues such as diabetes, wheat allergy and thyroid. They should get the details of whatever they consume and the information on the packages should be provided not only in English and Hindi, but also in local language.
Akanksha Attri
---
Don't rely on packaging for product information
The high prevalence of obesity and its associated illnesses such as cancer, heart disease and diabetes has sparked interest in finding ways to encourage consumers to make healthier food choices. Right information can help in creating an environment in which it is easier for consumers to make healthier dietary choices.Preferences for less expensive or more convenient foods may lead them to make unhealthy choices. Proper marketing and behavioural economic research can lead to people making healthier choices
Sakshi Verma
---
Make choices based on information
Consumers must make an informed choice about the food they consume as it affects primarily their health and life. They must know the details of the food ingredients and its quality before its consumption. Before buying food from the grocery shop, details about its quality must be ensured from the printed labels on the package. Food should be purchased only from standard producers-groceries. Un-labeled food should neither be bought nor consumed. Another important component to be taken care of is the quality of fruits and vegetables consumed by the common man.
Dr G Dev
---
Making sane food-related choices
We Indians are great foodies. We just our delicious food. There are ample of packaged eatables in the market, with adequate information about the nutrients, yet we don't read the back of the packet. We should eat food rich in fibres and potassium, but now-a-days, people hardly eat for health purpose. Food in the restaurant or hotels must be inspected by the food inspector. Another technique of checking the quality of eatables is to check the ratings of restaurants, number of complains etc in the review section. Ingredients of the food items and quality must be written in the menu. There should be ratings of hostels and restaurants on the basis of their hygiene also. Abhilasha singh
Ensure transparency
---
Food consumption influences health, environment and social structures. The main aim of disclosing information is to increase transparency of the food market which help the consumers to judge, compare and choose foodstuffs according to values and preference they find relevant. A consumer must check the expiry date and food labels( colour-coded labels) of packed food so as to make an informed choice for a healthy balanced-diets
Rajni Matta
---
Getting more value, nutrition from food
Consumers have a right to expect that the foods they purchase and consume will be safe and of high quality. While consumers, governments and others play an important part in ensuring food safety and quality, in free-market societies the ultimate responsibility for investing the physical and managerial resources that are necessary for implementing appropriate controls lies with the food industry.
Kirti
---
Informed choices to help fight allergies, sensitivities
Making a choice about the food we consume is paramount these days. Informed choice will help us to prevent food allergies and sensitivities. This can b achieved by planning snacks, including fruits and vegetables in our meals. To promote the importance of making informed food choices, every year national nutrition month is celebrated in the month of March.
Ishita Katyal
---
Ingredient list matters
Consumers while buying any food must go through the ingredient list. This list contains information regarding not only the ingredients, but also the preservatives. Such things are actually the cause of cancer. Consumers must have good knowledge about the materials used. Instead of sugar, Aspartame is used which can cause many health issues. The ingredients are listed in order of predominance, with the ingredients used in the greater amount first, followed in decreasing order by those in smaller amounts. The label must also list the FDA-certified colour additives by name.
Kuljot Kaur
---
Eat fresh foods
Food labels can help consumers get the products that best meet their health needs and therefore increase the benefits that consumers get. One of the best ways to get more food value, however, is eating fresh foods, especially those without any packaging or food label.
Jasmine Kaur Bajaj
---
Be an aware consumer
There is a race among traders, businessmen and other institutions to reap maximum profits. For this purpose, they indulge in malpractices and begin to supply items at low rate than their competitors. The consumers have have the right to know what is supplied to him. There should not be any mismatch in the contents mentioned on food items and the material inside. If it does not match, the supplier must be punished.
Dr Mohd Saleem Farooqui
---
QUESTION
How can secluded areas in the city be made safe for women?
OPEN HOUSE COMMENT
Food labelling - a public health measure
Minna Zutshi
Making an informed decision about the foods we consume is a tough task. It not only calls for a constant vigil on the consumers' part, but also mandates a strict policy regarding food labels on the authorities' part. Do the labels on food items inform and add to the consumers' knowledge about the food or do they conveniently confound the consumers without shedding any light on the subject? Are the labels sufficiently informative and useful for a person or are they merely a mishmash of technical jargon? Surely, the consumers have the right to know about the food they are consuming. According to the Food Safety and Standards Authority of India (FSSAI), it is mandatory that every packaged food article is labelled. The FSSAI guidelines on labelling of food products clearly says that the name of the product should be in clear format on packaged product in clear font. It is also mandatory to mention on the label the list of ingredients, nutritional information, declaration regarding vegetarian/non-vegetarian contents, information regarding food additives, name and address of manufacturer, net quantity, code number/lot number/batch number, date of manufacture and best before and use by date. According to FSSAI guidelines, it is also mandatory to mention instructions for the product use as well. On the consumers' part, sound common sense coupled with awareness is vital. Decoding nutritional claims, making sense of nutritional values, interpreting serving sizes - this is not a mere mechanical process. At the very basic level the consumers have to ensure that the food that is consumed is safe and unadulterated.
Suggestions in not more than 70 words can be sent to Ludhiana.feedback@gmail.com
Cities