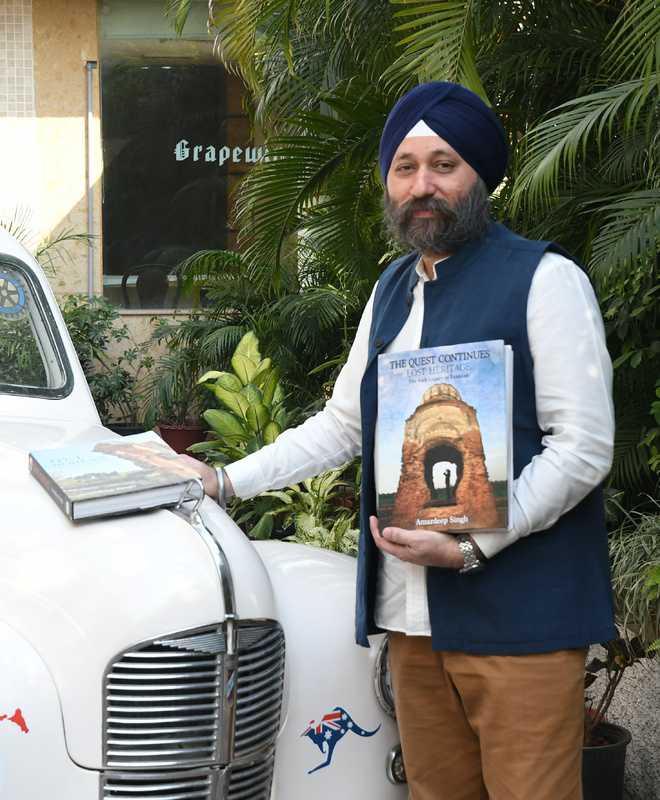 Manpriya Singh
A voracious reader, an accidental author, a passionate photographer, a corporate honcho, a historian… "I'm not a historian, I've become one," Amardeep Singh will cut you there and especially in context of the series of his two books starting with Lost Heritage: The Sikh Legacy in Pakistan and moving on to his latest, The Quest Continues: The Sikh Legacy in Pakistan.
Before he even gets talking about his unparalleled and unique journeys all through the 126 cities and villages in Pakistan, there are a couple of things he wants to clarify and never be misquoted on. "This book is not about Sikhism, this book is about heritage and legacy. How the legacy is beyond Nankana Sahib and Panja Sahib (the only places that this generation popularly knows and attributes to Pakistan) and how that legacy is also being kept alive." Moving on, "This is not a book, it's an experience." Which he shares exhaustively in the book, both visually and through words! "These are visual travelogues talking about all things of historical value, both tangible and intangible, which I am trying to put forward for the generations to come."
Change of track
A corporate executive for 25 years (his last job before his first visit to Pakistan was a large portfolio as a regional head with American Express). "After I joined the corporate world back there, I became as good as 'someone who is a photographer and has played with words'," he laughs, highlighting the myopic financial mindset of the companies.
Anyway, the journey started after the decision to visit Pakistan comes up one fine day and finally, "I wanted to visit the place of mother and father. That was the truth, but as an Indian when you apply for a visa you cite religious reasons for the visit. As an Indian born, I was denied the visa to Muzaffarabad. However, the visa officer spoke in Punjabi and was from the place where my mother belonged to." He adds, "I became dead honest with him, spoke in Punjabi and he issued me a 30-day visa."
While in Pakistan
That was it. Pakistan was waiting to happen. "The way people connected. It's not as bad as we think. They are also humans and they are also Punjabis. But, unfortunately, we only know of them as terrorists."
After the first book came out, a call from the embassy of Pakistan followed. "Fortunately, they recognised my work and how it was an objective, balanced approach to shared history of both countries." That's when the second book materialised. The research, documentation, the journey, has all been put together in the format of two books, in less than three years. "The pace at which I travelled was insanely rapid. For the first book, it was 36 cities in 30 days and for the second, it was 90 cities and villages in 40 days."
There are references to Bulle Shah, Prahlad, the frescoes, where they come from, the monuments, the language! "Do you know Maharaja Ranjit Singh's was such a glorious empire and it was him who actually captured Kashmir? Do you also know that Hari Singh's Nalwa's forces made 27 kilas?" he asks.
Awaiting re-discovery
While on his travels, there are no history lessons, but just about enough information, followed by visuals to get anyone interested in the legacy and heritage. Both lost and one that is still surviving! "Do you know there are people there who are not Kaurs or Singhs or don't have beards and turbans, but are actually sustaining the principles and practices of Baba Nanak," he shares, while flipping through a photograph where you can actually see a Muslim cleric serving langar.
Or a Muslim sitting outside a mosque and saying "Sat Sri Akal to him." It's not just about hordes of Baba Nanak followers in that region," he clarifies, "It's not just Sikhism, there is a whole lot of Jain legacy waiting to be explored as also Muslim legacy in East Punjab." So do we expect yet another sequel soon? "Well, both my previous books were unplanned. How can I plan this one?" We just hope it happens soon!
manpriya@tribunemail.com