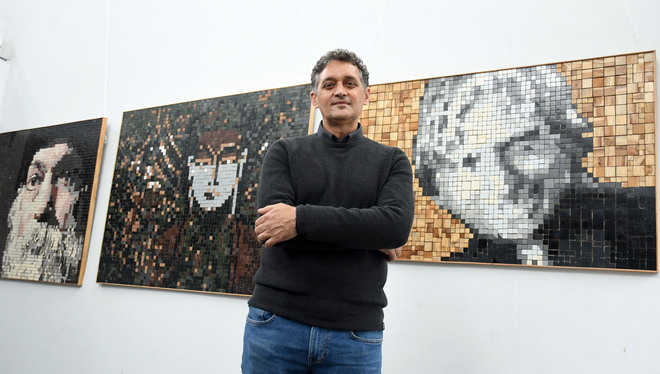 Gurnaaz Kaur
His medium is wood and inspiration sublime. Sureel Kumar wants to promulgate peace and contentment through his wood mosaics. This self-taught artist from Punjab who lives in Vienna is exhibiting his works at the Department of Art History and Visual Arts, Panjab University.
Titled The Whispering Wood, his spiritual and meditative approach towards life is reflected in his work. A look at the various forms and moods of Buddha, Ganesha and Osho that he has carved with love and excellence, will arouse reverential feeling in you. There are also some ancient epic pageants and mythological stories that his mosaics, murals and panels narrate.
These aren't mere ideas for art but messages that the cosmos sent to him and thus became his creative power. "There is creativity in everything; I've felt that while cooking, while gardening and in many other mundane activities. In fact, even a bad word can be beautiful if you don't react to it."
One of the mosaics titled Beautiful Offence is Sureel's expression to this very thought. Its description reads, even the gesture of showing middle finger can be beautiful. "In Vienna, I was at a really crowded place and unknowingly got pushed towards a man and he probably was so angry or got angry when my body touched his that he showed me a middle finger. I did not say anything and didn't really mind it either. When I went home, I thought about the incident and I found the expression honest therefore beautiful, it thus becoming an inspiration for this work."
A series of Shiva and Shakti are his understanding of the expansiveness of this universe. "Scientists are now coming up with theories that galaxies are expanding but I think our scriptures narrated this truth ages ago. The energies of Shiva and Shakti when consolidated are first in harmony but have their desires and because no two desires can sustain together, thus lead to separation. So, life eventually is either disappearing into nothingness or going back to harmony after many stages of separation. And that's somewhere the case with every micro and macro organism, I feel."
Buddha is his muse because it is through his teachings that Sureel understood being in the centre is the golden way of life. He explains through his works that no extreme is good.
Another source of inspiration he finds in Khajuraho monuments, which he says are the greatest work of art in the world. The perfection shown in the eyes, body movements, mudras, he explains, "Bring alive those figures and the mysterious backgrounds add to the beauty."
It is in the teachings of Osho that he found himself and the artist within. It was quite late in life but it is better late than never and through some of his works he pays a tribute to his master.
There are many tales that Sureel has attempted to narrate through wooden blocks and his sincerity in thought and love for art is visible in every piece.
On till March 29
gurnaaz@tribunemail.com
Top News
The meeting comes a day after they unitedly led the charge a...
Apart from Adani Enterprises, the other two firms listed by ...
The drone was carrying a packet weighing about 5kg, suspecte...
The car hit the motorcycle parked along the road as a result...