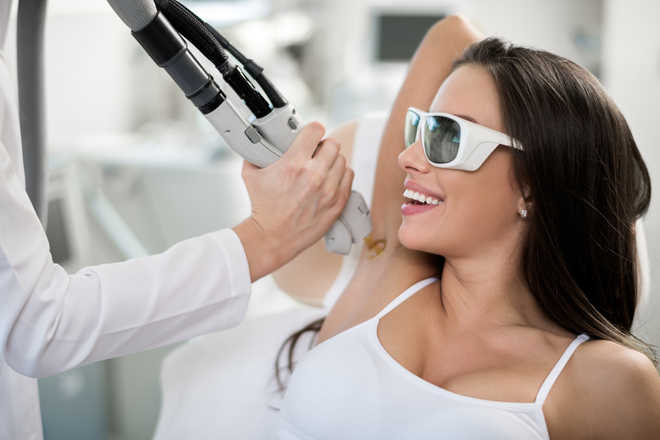 Geeta Garg
Laser hair removal (LHR) is a common practice. The basic concept of it is that laser light, when enters hair follicles, gets converted into heat energy and burns the pigment in the hair follicles and the hair bulge stem cells. Thicker and darker is the hair, better is the penetration of laser energy and more chances of its destruction.
Do you know?
Before adopting this procedure, one should be familiar with these real facts about laser hair reduction:
For LHR, diode laser, Ndyag lasers and even IPL have shown good results. Patients have shown higher efficacy with diode laser (800nm) as compared to Ndyag laser (1064nm), while vice-versa is also true.
The response to treatment varies with skin colour, hair colour and hair texture. Few areas like underarms, bikini areas respond faster as compared to other areas.
Laser hair removal is done in sessions because hair in a particular phase of hair cycle is targeted. Regular sittings of LHR at regular interval are advised. On an average, 6-8 sessions are required. It may vary with the type of hair growth, area and presence of underlying hormonal imbalances. Sometimes a few maintenance sessions at an interval of six months or one year are required.
This is how to go
In-between sessions, waxing, plucking and bleaching are usually not advised. Trimming of hair or shaving may be done for the growth which occurs in between LHR sessions.
Sun protection is very important for few days after LHR sessions as photosensitivity can occur. A sunscreen usually of SPF 25-30 is advisable.
A mild erythema or perifollicular redness can be there post-procedure which is usually transient and subsides within 2-6 hours.
The use of retinoids, glycolic, hydroquinone creams should be stopped 2-3 days before and 2-3 days after the procedure as these might exacerbate the sensitivity of skin.
It's safe & easy
The LHR procedure is safe and effective if it is done under the supervision of a specialist and with a good quality laser machine. The chances of getting side-effects like superficial burns, rashes and hypo or hyperpigmentation, folliculitis, acneiform lesions are reduced to almost negligible by using latest machines.
Sometimes, LHR leads to paradoxical hair growth. There is an increase in hair length which occurs post treatment. The specialist has to assess the patient and counsel the patient accordingly before starting the procedure.
(Dr Garg is a Chandigarh-based dermatologist)
Top News
Appointments come amidst strong observations by a Supreme Co...
The regulator says committed to ensuring market integrity; m...
Says the meltdown of Adani Group would not impact country's ...
Firm exported two consignments of 24 batches of the allegedl...
Preneet Kaur is accused of helping the BJP in the northern s...