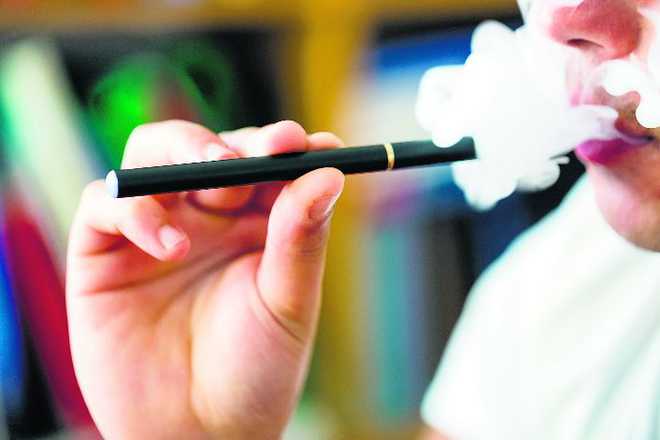 Mona
Apple Orchard, Alpine Berry, Crème Brulee, Fruit Medley, Classic Menthol or Virginia Tobacco... can you guess what we are talking about? Nope, not the mocktail or the dessert options but these are flavours one can pick while buying an e- cigarette!
As Indian government mulls a ban on the same, the supposed 'help' to quit smoking is under the scanner. Battery-operated devices or Electronic Nicotine Delivery Systems (ENDS) is rather a hit with youngsters. Available in varied flavours, these are popular as a starter as a 'supposed' aid to quit smoking. "I started with an e-cigarette before I graduated to smoking for lighting a cigarette would make me cough. I hated the strong tobacco flavour," says Shefali, an occasional smoker.
Not cool
Vishesh, a research scholar at Panjab University, not much a fan of ENDS, shares, "I laid hands on e-cigs when I had already quit smoking. The nicotine did not go well with my system all over again, so I never got hooked on to e-cigs." College-goers opt for ENDS to look hip too; as much as e-cigarettes, 'vaping' is catching on fast too. "Many folks take up to vaping as it has low or no nicotine content, but makes one look 'cool'," says Vaibhav, who successfully quit smoking.
Quite addictive
While many others have used and continue to use e-cigarettes to get help in quitting, some of the studies suggest otherwise. "Increasingly, many studies have found e-cigarettes to be as harmful as smoking if not more," says Dr Harinder Bali, chairman, Cardiac Sciences, Paras Hospital, Panchkula. "Though these don't have tobacco, but the high nicotine content makes e-cigarettes addictive. And, health hazards, like lung and mouth cancer, are equally likely."
A recent report by Harvard Medical School points out that its chronic use may lead to insulin resistance and type 2 diabetes. And the danger is not just that. Fruit flavoured, they appeal to youngsters and there have been sharp rise in nicotine poisoning from the e-liquid. Recently, about a hundred of teens were taken severely ill post vaping in the US.
Step in time
As for the ban, Dr Bali is all for nipping the evil in the bud. "Before this too becomes a strong billion dollar industry, e- cigarettes should be banned." Everyone in the fray is being controlled by the commercial forces. "There have been attempts by tobacco giants to capture its e-market, but so far they have not been successful. If not stopped now, e-cigarettes would become as popular and big as tobacco industry," says Vishesh.
What are e-cigarettes?
Made to resemble combustible cigarettes, these battery operated devices use flavoured liquid, which can have nicotine or not. User sucks on the mouthpiece activating the heating element, which vaporises the liquid solution.
Why the furore?
Initially sold as an aid for quitting smoking, there has been increasingly more evidence that e-cigarettes are as addictive and hazardous for health if not more. Nicotine that's used in these devices is as harmful as tobacco in regular cigarettes. More recently, health bodies around the world are taking initiatives to curb their sale as these are becoming a rage with youngsters. There have been instances of accidental liquid ingestion leading to poisoning.
E-cigarettes versus vaping
As much for the high, e-cigarettes are popular as an attempt to fit in the 'cool' crowd. While different brands offer different potencies of nicotine in e-cigarettes and vaping, the latter produces more smoke and is more for effect than high. Pulmonary expert, Dr Aditya Jindal says, "Adolescents take to e-cigarettes and vaping considering them harmless, but have gotten addicted and taken to smoking." He points out anything that generates smoke cannot be harmless!
Top News
The Khalistan sympathiser said if the state government had t...
'Let us not be selective,' Solicitor General said while insi...
Counting of votes will take place on May 13
Deplores attempts by Rahul Gandhi to draw parallels between ...
Petitioner sought more time from the court for producing evi...