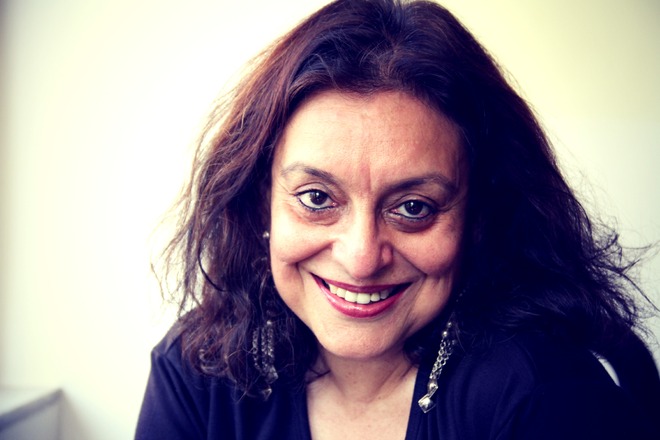 Mona
The more you know Sohaila Kapur, the more you are in for a surprise! The ex-journalist is a theatre-person par excellence, has done many shows for television and written on myriad subjects. In City Beautiful on the invite of Chandigarh Literary Society, Sohaila Kapur had much more to share.
What is your play, Makalat, which will debut in Chandigarh at Literati 2015 in November, about?
Makalat (which mean conversations in Persian, perhaps that is where the wordmulaqat came from), is making its debut here! It is the story of Rumi, the poet, and the relationship that changed his life forever. From a teacher of the Koran, he became a Sufi mystic.
Theatre, writing, anchoring, acting…how do you manage to do so much, while lesser mortals find it difficult to handle one profession?
Yes, I hear that constantly from my younger colleagues. I guess I learnt this from my parents, specifically from my mother who was a journalist, and one of the first women of her generation to hold a high profile job in what we call a multinational now. She was also a dedicated social activist, having opened an academic and vocational school for underprivileged children and young girls. She also had an actor hidden in her. She had participated in plays as a youngster.
How much has Shekhar Kapur (her brother) influenced your artistic journey?
We are on separate paths, which developed separately. He does films, I do theatre. But yes, I submit my theatre scripts...those written by me for his feedback, which is important for me.
We read somewhere that you love to work with children? True? How is it different from working with adults?
I have held workshops with children...like the one with Amity school in Gurgaon, where 200 children participated and finally performed. We were a team of three; my actors Neeraj and Jyotsna (who have worked with me for the past few years) and I. Along with a partner, Jotan, I first started training kids at my residence. I have worked with all age-groups, from 4 to 17. I enjoy working with kids. They absorb so much because they come without pre-conceived notions. But yes, you have to capture their imagination and that is the real challenge.
What dream project would you like to lay your hands upon?
A musical! I am also a lyricist-song-writer.
What are you currently writing on? What are the upcoming projects?
I have two new projects, both opening this October-November. The one on Rumi and one based on American Oscar nominated writer Jose Tivera's (The Motorcycle Diaries) Cloud Tectonics.
Who has been your idol?
Sounds syrupy but my uncle Dev Anand, brother Shekhar Kapur and writers Gabriel Garcia Marquez, Maya Angelou and Roald Dahl.
Anything else that you would like to share with our readers?
I love travel writing. There is nothing better than visiting little known communities and sharing stories with them. This helps you emerge from your own little well and realise that you are but a dot in the vast universe in which there is so much to explore. It's a humbling, exciting and a deeply spiritual experience.
What's it that you are yet to do?
Paint and resume my music as well as dance classes.
mona@tribunemail.com
Top Stories