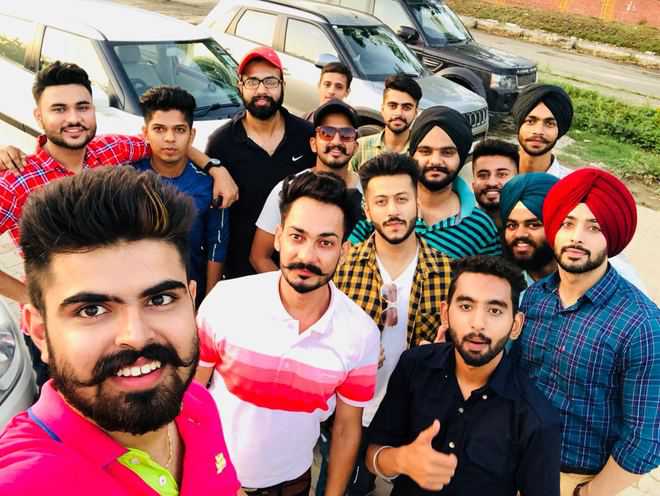 Jasmine Singh
Rabby Tiwana was pursuing B tech in TV production and media technology at Centre For Advanced Media Studies, Punjabi University, when he got an idea, which did not let him sit still for five years, till he finally got it on paper, and thereafter, brought it alive on screen! Now, it is called Yaar Jigree Kasooti Degree, Punjabi entertainment world's own web series.
Written and directed by Rabby, the web series, in its third episode, is already running with over 8.8 million views. It revolves around the life of students at Punjabi university, Patiala, and most of the cast members are students themselves, barring known names like Punjabi actors Pukhraj Bhalla and Karan Sandhawalia.
Unexpected response
Rabby who never expected this kind of a huge response, is happy and also sure that he must have done something right. "'We started shooting in April 2017 and we've released it almost a month back." A diploma-holder from Thapar Polytechnic College, Rabby's parents wanted him to pursue B Tech. "So, I told them I will pursue B Tech, a degree that you can feel proud about, but it'll be in filmmaking," he laughs. "It was meant to be for television, but no channel took it up; some found the quality poor, some had other issues, so, I finally gave the satellite rights to Troll Punjabi (a web page started by him) and kept the web rights with myself," adds the director, who meanwhile also made Dhee Da Siwa, the first-ever one-take Punjabi short film.
The process of making a web series, which wasn't popular in Punjab, had its own difficulties. Budget, was the first one. So, Rabby, supported by his parents, funded the series himself. "After my documentary won various awards, my parents got convinced that I was on the right track, so they helped me with the project."
Yaar Jigree Kasooti Degree is already three episodes down, with eight major characters, it will soon see the entry of new characters and love angles. The first season will have 13 episodes. As for the eight main characters, his juniors and friends all stood up as the cast. "We used to shoot after the class and sometimes during the regular classes also," he winks.
Star power
The original track of the web series has been sung by popular singer Sharry Mann. The music has been given by the popular Mista Baaz, while Sarang Sikander (popular singer Sardool Sikander's son) has done the background score; the lyrics have been written by Karan Sandhawalia.
The film also stars Pukhraj Bhalla, popular Punjabi actor-comedian. "Rabby and I were classmates; we have been together on this project since day one," shares Pukhraj.
View it yourself
Episode 1- 8.8 mn views
Episode 2 - 5.8 mn views
Episode 3 - 3.3 mn views
Good returns
Yaar Jigree Kasooti Degree is a project financed by the director of the web series, Rabby Tiwana. After a three successful episode run, which started from September 15, the series is getting returns from the YouTube views now.
Proud teacher
Jung Bahadur Singh, producer, Centre For Advanced Media Studies, Punjabi University, Patiala, has been their teacher and is proud to see his students do so well. "This is an all-student production; they haven't hired a single professional."
Top News
The former military ruler had left Pakistan in March 2016 fo...
After his failed misadventure in Kargil, Musharraf deposed t...
Military shoots down the surveillance balloon in Atlantic Oc...
The incident took place on Friday when Kambli reached his fl...
Dearness allowance for employees and pensioners are worked o...