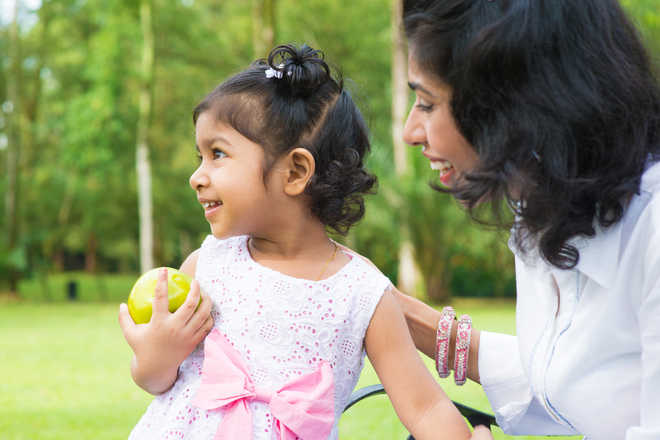 Ruchi goyal
It is common these days to see children whizzing from home to school to a sport's class to an art class throughout the day. Parents are leaving no stone unturned to ensure that their children get all the resources and guidance to hone their skills and make a mark in this competitive world. However, the pressure to participate in a wide range of activities and to keep up all the time can be physically and emotionally exhausting for kids. Today we will try to see how appropriate nutrition can help kids deal with such a hectic lifestyle.
A power-packed start
Children have a very high metabolic rate and in the mornings, having not eaten for a long time, their energy levels are low. Therefore, children's day should start with some instant sources of energy and a good source of fat. Some interesting options other than the milk are—banana, chikoo, apple or shakes, handful of mixed nuts, fruit yogurt or smoothie with muesli, whole grain chilla, porridge with seeds, rava uttapam with curd etc.
One for the grey cells
At school, children generally have high levels of cerebral activity but low levels of physical activity. So, we might think that they do not need a lot of nutrition for this part of the day. However, when active, the brain needs ten times more energy than the rest of the body. If the child is poorly nourished, it leads to oxidative stress resulting in lower output.
It therefore implies that the meals at school should have a combination of carbs and protein for sustaining the energy supply and managing the oxidative stress.
Mushroom or paneer sandwiches, idli with peanut chutney, paneer or methi parantha, cold tofu or hung-curd sandwich, poha along with sprouts, oat chilla, vegetable and nutri pulao, paneer/soya kathi roll are some of the interesting options.
While stepping out
If children have a long afternoon of sports activities after school, we need to ensure that they have enough energy to sustain themselves. This can be done with healthy pre and post-exercise snacks. Carbohydrates provide the necessary energy but the protein requirement also increases.
Before the activity: One should avoid large meals immediately before exercise. It is recommended that one should eat at least 30 minutes prior to any intense activity.
The meal before exercise should be high in carbohydrates and provide fluids. Such a meal gives a boost to working muscles, ensuring that children perform at their best without tiring too soon. Such a meal is digested and absorbed faster than one high in protein and/or fat.
However, if the activity is longer than 60 minutes, combining carbohydrates with protein is the most efficient. One should add a good source of protein (such as soya, lentils, pulses in sprouted form or nuts) along with carbohydrates.
A fruit, some healthy protein or a nut bar may be given to children as ready snack that can be consumed during exercise too.
After the activity: This meal should be rich in proteins, to help the body recover from the effects of strenuous exercise and repair the damaged tissues. Non-vegetarians can include eggs, fish and chicken and vegetarians should have milk, paneer and yogurt.
(Goyal is a Chandigarh-based clinical nutritionist and dietician)
Top News
With the induction of five more ministers, the strength of B...
Supreme Court judge bats for mandatory regulation of social ...
Two-day special Maharashtra Assembly session begins
Two AK series rifles, seven grenades and pistol recovered fr...
BJP's next round of growth will come from South India, says ...