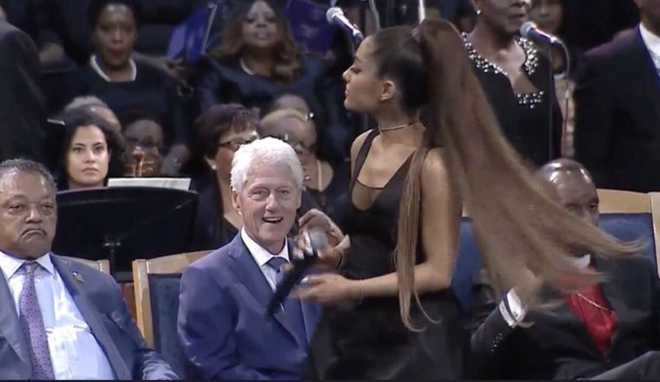 Washington DC, September 3
Former US President Bill Clinton is currently trending in the meme world after he was caught seemingly mesmerised by American singer Ariana Grande's performance at Aretha Franklin's funeral in Detroit.
Grande performed to Franklin's "A Natural Woman" at the latter's funeral on August 31.
Tweeple used Bill Clinton's fan moment to create some amazing memes.
Posting a video of Clinton looking at Ariana, a user tweeted, "Find someone who looks at you the way Bill Clinton looks at anyone who isn't his wife."
Read: Bishop apologises to Ariana Grande for 'being too friendly' at the funeral
Another tweeted, "Halloween costume idea: Bill Clinton looking at anyone but his wife" "Bill Clinton is the real life 'dirty grandpa'," another tweeted.
Another user tweeted, "Bill Clinton looks at Ariana Grande like I look at stuffed crust pizza." There were some who even found Clinton's reaction inappropriate, "gross" and "creepy", arguing that his expressions were unfitting considering the singer was performing at a funeral.
A user tweeted, "GROOOSSSS HOW IS HE STILL SO CREEPY!?!?! EEEWWWWWW… WATCH: Bill Clinton Stares Creepily At Ariana Grande Singing At Aretha Franklin's Funeral" "Watch Bill's eyes go right to @ArianaGrande's butt. Jesse Jackson doesn't look down, but @BillClinton does. This is a funeral, come on man," a user pointed out. ANI
Ariana Grande & that black dress brought Bill Clinton back to life 😂 pic.twitter.com/YDaEuHesfN

— Supa Crank It™ (@SupaCrankIt) September 1, 2018
Bill Clinton is an ariana grande fan 👀 #ArethaHomegoing pic.twitter.com/S5XRuUWHrW

— The Latifah (@TheLatifah) August 31, 2018
Bill Clinton, even on the front row of Aretha Franklin's funeral at the age of 74, won't stop, can't stop when Ariana Grande is performing. pic.twitter.com/dCH2CZ6BdM

— Clay Travis (@ClayTravis) August 31, 2018
Gross... Watch Bill Clinton look Ariana Grande up and down when she sings at #ArethaFranklinFuneral and try not to throw up in your mouth. pic.twitter.com/iMdmxWuzx7

— Kathy Cole (@KathyCole6) September 2, 2018