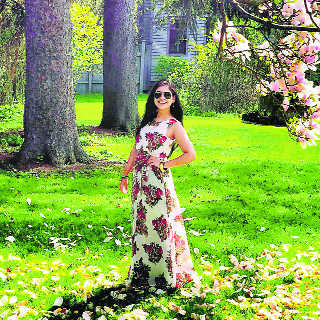 Rashi Mathur
She is charming and dynamic, a postgraduate in interior designing, a national-level classical dancer and a theatre artiste. Adding to her kitty of achievements, now, Amritsar-born Tania is set to begin her celluloid journey. She is full of beans to share the screen space with Ammy Virk and Sargun Mehta in her upcoming debut film Qismat, which releases next Friday. Next in the queue for her is Son of Manjit Singh that will release on October 12. Her third film is also in the making.
"All my life events pivot around acting. I did theatre for four years because I aspired to be an actor. I learnt dancing as it would help hone my acting skills," shares the 25-year-old, delighted and satisfied that her carefully executed steps are leading towards her goal.
First break
I have done my graduation from BVK DAV College, Amritsar. I was active with theatre and for four years in the row, I won 'Best actress – Punjab' there. One of my performances won me my first film, Son of Manjit Singh by Kapil Sharma Productions. After that, the directors approached me for other projects.
Warm experience
It was great to work alongside Ammy. The director, Jagdeep Sidhu was warm too. After seeing my role in Son of Manjit Singh, he called me and from there a new journey began. People are mistaken that this industry is something else. Honestly, everyone here is generous and remains busy with his/her work. Yet they are cooperative and helpful.
Moment long awaited
I have taken a lot of time to prepare myself for every aspect of the film industry. Now that I have made it, I am eagerly waiting for the result.
Free time
When I am not working, I talk to my family as they are far apart. I am in Canada from last two years and they are in India. I want to be connected to them.
From Toronto to Amritsar
For me, acting is foremost, irrespective of place, whether Toronto or India. Location isn't a barrier. If the role suits me, I can travel anywhere.
Favourite Bollywood actor
Naseeruddin Shah.
Character or glamour?
My choice of films depends on the character. One of my roles didn't even involve make-up. I only had to wear my moisturizer, but as it was an organic part of the plot, I loved it.
Make a wish
I hope the industry accepts me and loves me back as I have put in a lot of effort and channelised my every move towards acting.
Sweet tooth
I love drinking iced capp. It is sugary and chocolaty, hard to resist.
Top News
Railway Board has recommended for Central Bureau of Investig...
Amid pro-Khalistan sloganeering, the 39th anniversary of Ope...
Focus on ways to expand bilateral defence and strategic ties
Observers feel election campaign built around the possibilit...
Nothing objectionable except personal belongings and Pakista...