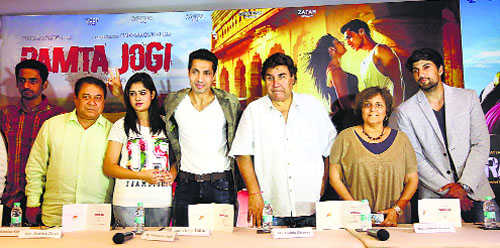 Mona
Director Guddu Dhanoa is known to launch newbies who become stars! Be it Bollywood's Shah Rukh Khan or Pollywood's Diljit Dosanjh, this veteran director has an eye for talent.
With his latest movie Ramta Jogi, he launches two fresh faces — Deep Sidhu and Ronica Singh. "A love story always demands fresh faces and since Ramta Jogi is one, we have gone from them," says Guddu, on the poster launch of this Punjabi film in Chandigarh on Wednesday.
The trailer, however, speaks otherwise; yes there are flashes of love but more action, typical Bollywood style — kicks flying high in the sky, the chase and heavy-duty dialogues!
Penned by Santosh Dhanoa, the team is wary about revealing the storyline but by the first look of it, looks like a teenage romance with families playing spoilsport.
Shot in Patiala and Mumbai, the film has Rahul Dev playing the baddie, with Zafar Dhillon and Anil Grover in supporting cast. Music is the USP of Guddu Dhanoa — refer to Deewana, Bichhoo, Aflatoon. And, he aims to repeat the feat with Ramta Jogi. The title track has been sung by the effervescent Sukhwinder Singh. Avoiding Dhanoas for a while, Sukhwinder, who wasn't keen to do Ramta Jogi again (first he had done it in Taal), but the result has left him raring for a third! "I shared the track with Rahman and even he was happy," says Sukhwinder, who is all praise for Guddu Dhanoa's music sense.
The male lead has been played by Deep Sidhu, who hails from Muktsar. "After bachelors in law from Pune, I completed masters from London where I picked up modelling and eventually this film," he says. Ronica is city girl with a bachelors degree from SD College.
Guddu loves to hone new talent and was happy that a month-long workshop with the lead pair eased them in front of the camera.
"They have done a good job," the director praises the duo. "The film has a surprise ending," he signs off.
---
Ever-charming Bobby
Bobby Deol makes a dashing appearance in a beard, citing not having money enough for blades for his new look as the reason! Yes, that's not true, but a prop set by the director of his upcoming thriller does not reveal much. With Deols around, family comes first. Our dashing hero mentions his sister, who is annoyed at his beard.
The Wednesday visit is to support his 'brothers' Guddu Dhanoa and Deep Sidhu. Ramta Jogi is being made under the banner of Vijayta Films. "The film is a love story helmed by the experienced Guddu Bhaiya. With my brother Deep Sidhu in the lead and Sukhwinder Singh giving the title track, I am sure it will be a good watch." Otherwise, the reticent Deol is in fun mood; this time agreeing that even he would love to see more of 'him' on big screen but is not taking chances till he finds an interesting script. "It's time that we do not take the audience for granted, be it Hindi or Punjabi films." He wants films like Whiplash to succeed in Bollywood. "A film here and there would open up space for different cinema in the coming time," says Bobby, who is open to another sequel of Yamla Pagla Deewana provided the script is good. And, yes, he is also open to a debut in Pollywood, in fact, he is polishing his Punjabi skills for that!