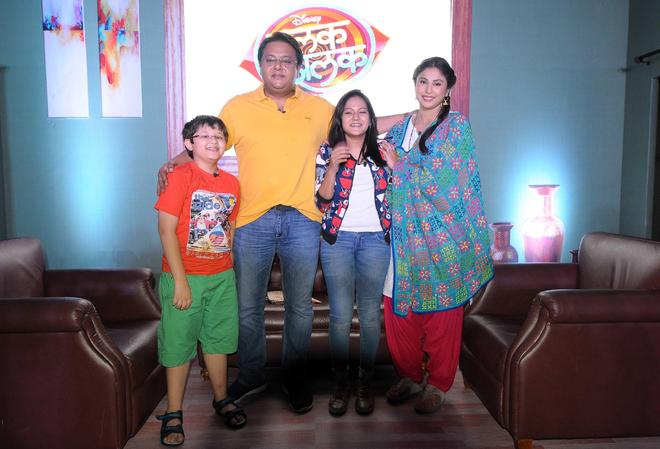 Amarjot Kaur
To know what lies ahead is entertaining enough, but have you ever wondered what would it be like if you had a friend, a daughter, or a sibling, who could do that? Well, in the latest offering by Disney, titled Palak Pe Jhalak, that revolves around the life of Nysha Kapoor, the role of which is essayed by Ayesha Kaduskar, the actors believe that the show is quite realistic and deviates from the regular saas-bahu sagas. As the actors of the show visit Chandigarh to promote their show and its concept, which is an adaptation of Hollywood television series, That's So Raven, they talk about the show and their journey in television.
While Nitish Pandey essays the role of Nysha's father, Khyati Keswani plays the role of her mother and Aarush Rana plays her on-screen brother.
All and about
"Well, I took up the show because I did not have any other work," quips Nitish Pandey as we ask the actors about their reasons for taking up the show. Meanwhile, Khyati Keswani shares that since she wanted to do a light-hearted drama, there was not a better option than this show.
"I have been a huge fan of That's so Raven and since I have grown up watching it, I am only glad that I get to act in the show," says Ayesha Kaduskar. However, the youngest one in the team hails an honest reply as he says, "I like it as itis by Disney!"
Whatever their choices for taking up the show, the actors share that they have had a great time shooting for it and that they now share a camaraderie that goes even beyond work. "Just the fact that it is a show about love, friendship and family, with situations that are so real as the makers have Indianised it, is a great deal and I think they have made it more fun and entertaining," says Ayesha.
Telly talk
Returning to television after a break, Nitish Pandey engages in a heart-to-heart conversation as he talks about his up and coming production ventures along with his take on the change in the content of shows on TV. "TV has changed, both for good and bad. I like the fact that it is more realistic now and that it is deviating from the saas- bahu saga format. Also, I like the idea of it catering to the niche audience," he says. Nitish shares that he will soon be producing a web series, tentatively titled Blue Jeans. He also shares that he has pitched in shows for mainstream television as he says, "I have pitched in a comedy show with Sab TV, another one with Disney and a Marathi show with Star Pravah."
It's show time
While talking about the show, Aarush Rana, 10, who plays the role of Nysha's brother, says, "I do not compromise on my studies while I act and I do want to become an actor in the long term too."
Adding to his statement, Ayesha, 19, who is also pursuing BA at Mithibai College, Mumbai, shares, "I would like to study acting after I complete my BA Degree."
The show, Palak Pe Jhaklak will premier on September 27 at 10:30 am on Disney Channel.
amarjot@tribunemail.com