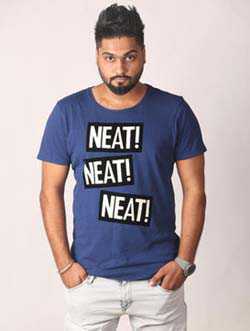 Jasmine Singh
What happens when you find your life has been inadvertently put on the Ferrari lane? This Punjabi singer from Gurusar Sudhar, Ludhiana, Navv Inder can tell you all about it, if only you are lucky enough to get hold of him! As he travels the length and breadth with his wakhra swag, Navv warms up for an interview only after he ensures that it is not just another fan playing a prank.
Blessed with an intense gaze, the singer is quite taken aback, and at the same time enjoying the attention. His track Wakhra Swag, featuring Badshah, is topping the charts everywhere. If you have listened to the track sung in an easy-sing-talk style, you'd also understand why it is a rage.
"It was an experiment, I had thought of two consequences while recording and shooting it, either it would be a super flop or it would become a hit," shares Navv, who is now enjoying the glory as the second consequence paid results.
This, however, is not Navv's debut track, but he wants to call Wakhra Swag as the beginning. As for his beginning, it happened like this…"I would participate in Punjabi poetry competitions, and thereafter singing competitions at school level. I always received a lot of appreciation for my voice. Later, when my friends heard me sing, they told me I should do something about it," he proceeds slowly, busily munching snacks.
Sitting down for a meal is a privilege now! Navv released his track on Youtube and earned huge appreciation. And then came about a turning point in his life. "This happened when I met Badshah. He also believes in doing something different when it comes to creating music. Wakhra Swag was like an experiment, which has turned to be a wonderful one. The song has more than 70 lakh hits," adds this carefree singer, who has done many more tracks with Badshah which will be releasing eventually.
A talk-sing style yet again? "Certainly not," Navv is quick to add, "I like to sing, I actually sing on high pitch, which is something that you would be seeing me do. The coming songs again will be different and I am sure they would be received well by the audience." The reason why Navv is so sure obviously comes from his track getting a grand applause from Punjab and around. "Also, because I have realised that listeners in Punjab have a developed sense of music. It is not always that they will like the run-of-the-mill stuff," Navv adds confidently, the singer who will also be concentrating on working on his style. After all, it's all about wakhra swag! Smiles, maybe for the first time! "Yes, I need to shed a few kilos. But I am not a gym freak. I eat whatever I have to. It's not that I am sacrificing everything, I am just blessed, or lets say wakhra." Navv is a qualified business professional having done his MBA Finance. He is a singer who promotes professional qualification in a big way.
"It is always better to have a fall back option. Eventually, your heart will lead you to its calling, but a degree doesn't hurt. I am thankful that my parents have always supported me in whatever I have chosen to do." Now, this is called style with a difference!
Top Stories