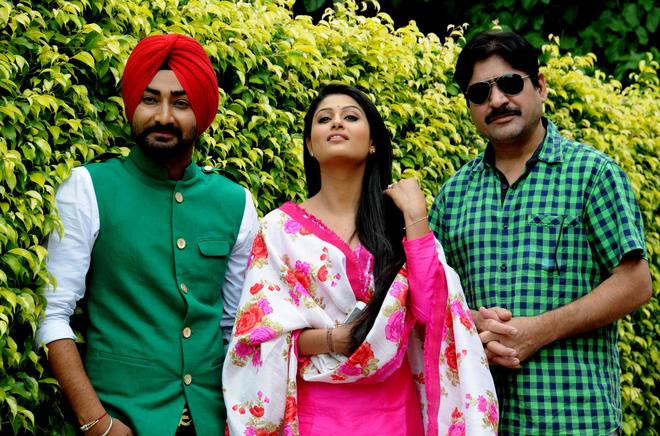 Amarjot Kaur
For those who look at both sides of the coin realise that one man's revolution is another man's terrorism. Probably that inspires the plot of the up and coming Punjabi film titled Toofan Singh, which tells the tale of Toofan Singh, who raised his voice for the Punjabi society during 80s.
Made under the banner of Royal Cine Arts, the film has been produced by Dilbag Singh and directed by Baghal Singh. The makers say that as much as 90 per cent of the film is inspired by true events that are backed with media proofs and other facts.
The film features Punjabi singer Ranjit Bawa, television actor Shefali Sharma, and a seasoned Bollywood and Punjabi film actor Yashpal Sharma. Besides, the film will also feature Sunita Dhir, Sardar Sohi, Raza Murad, Jarnail Singh, Harry Sharan, Deepraj Rana, Narinder Nina and Daljit Daman.
At the motion poster release of the film on Monday, we talk with the makers and actors of the film, to get a deeper insight into the subject.
Makers and takers
Written by producer Dilbag Singh with Dheeraj Rattan and Surmeet Mavi, who have co-penned the screenplay, the makers believe that this was by far the most interesting and unique subject that they could zero in on to let people know about Toofan Singh.
"The idea was in my mind since long but I was just looking for the right team. My director and my actors make a very good combination and now we are all set to shoot the film. I dream of bringing a change in the perception about Punjabi cinema," Dilbag said.
Meanwhile, Baghal Singh, who will be making his directorial debut with the film, shares that he is quite hopeful about the project. "Getting back to history is not easy but coming out with something from the history to create another history makes your life. This is the very idea behind making the film. A person did so much for society and we are just trying to be instrumental in portraying his life on the big screen," he says.
Act-a-part
Ranjit Bawa, who will be making his debut with this film, shares that this film is very important to his career.
"For an actor-turned-singer, the choice of his first film either makes his image or breaks it. If I fail as an actor, it will hugely impact my singing career too," he says.
However, he is certain about his role in the film. Playing Toofan Singh, Ranjit, who has been singing songs that are based on social issues, he shares that he could not have thought of a better role or a character to be playing in his first film ever. "To a few, Toofan Singh was a militant, to others, he was a terrorist, but I am from his neighbouring pind. While mine is called Vadala Granthia, Toofan Singh's was Cheema Khundi. I have grown up listening to the heroic tales of Toofan Singh, who was a complete humanitarian and I worked really hard to play this part in the film," he says.
Ranjit shares that not only did he take acting classes for the film, but also lost 12 kg and took action training too.
Meanwhile, Shefali Sharma, who is currently seen playing the parallel lead in Diya Aur Baati Hum and was earlier seen in Bani-Ishq Da Kalma, will be playing the role of Toofan Singh's wife in the film.
"The director told me that he did not want a heroine, but a performer and that's what made me take up this film. I am glad that I have a lot of scope to perform in the film," she says. Also, Bollywood actor Yashpal Sharma, who will be playing a cop in the film says, "This guy is a sadist and a complete psychopath. It is a dark character and we will show some real life sequences in the film too," he signs off.
amarjot@tribunemail.com
Top Stories